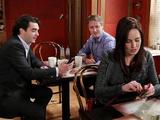 Despite Charlotte's harsh treatment of Zak, Caoimhe has generously offered her grinds in maths. On top of that, the teenager has been asked on her first ever date. Is all in Charlotte's world too good to be true?
Meanwhile, Dermot is under serious pressure as a single working parent.
Elsewhere, Decco is fed up with Caoimhe's delusions about the glamour of the criminal world.
Also today, life seems to be running smoothly for Eddie with Wayne interested in doing business and Orla just plain interested.