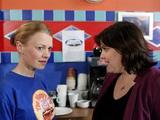 Wayne breaches Lucy's trust and confronts Emily, who denies being a bully. Wayne then tells Damien about Emily's alleged history of bullying, but Damien cautions him not to speak loosely of this before he knows the facts. Soon afterwards, Bob and Wayne leap to Lucy's 'defence' when she overreacts to Emily asking to have a conversation with her. Emily later tackles Lucy again and threatens to blow her cover, but is shaken by Lucy's fierce resolve not to own up to her deceit.
Emily decides not to let Lucy get away with her behaviour, but soon finds herself blackmailed on a technicality - one night, Lucy ran away from the psychiatric hospital and Emily took her in, as opposed to bringing her straight back to the hospital as per the rules of social work. Lucy threatens to claim sexual abuse by Emily during this runaway incident, if Emily blows her cover with Wayne…
Meanwhile, Carol is annoyed when she realises that Louie intended for them to marry in Boston, with Joey and Clara as flower girl and groomsman. Bob overhears and tells Carol that Louie doesn't deserve her. Later, when Louie deflects conversation away from Carol's strengths, Bob plants seeds about how much Louie underestimates Carol. As the day continues, Bob and Louie turn the dial way up on their hostilities in an emotional exchange about which of them is a worse father, with Bob pushing every button to get on Louie's nerves. Alone with Carol, Bob urges her to see the person Louie really is and to not marry him or she will regret it forever…
Elsewhere, Orla threatens to notify the police about Neil's knife-wielding unless Pete kicks him out, while Paul informs his staff that Rachel will be working with them.