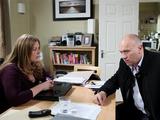 Paul is moody with his employees at the garage, leaving Ray and Keith puzzled by his behaviour. Feeling lost and fearing he has wasted his life, Paul goes AWOL. On his return, he levels with Niamh that his working life at the garage has to come to an end. Niamh reminds him of his responsibilities and even suggests evening classes, but Paul doesn't take it well.
Later, Paul is delighted when Niamh gives him the go-ahead to do some research and start over. Paul asks Wayne to manage the garage for a month while he sorts himself out. His spirits are lifted by the prospect of freedom, but Niamh is concerned.
Meanwhile, Rachel looks for an opportunity to lose her virginity to Graham. Yvonne gets suspicious when she hears of a planned sleepover at Shannon's. She calls Rachel on her plan and gets stern with her young niece. Later, Shannon refuses to be Rachel's cover while she attends Graham's party. Yvonne also delivers some words of warning to Graham, and he is suitably intimidated.
Elsewhere, Neil is surprised when Pete gives him advice on winning Sash over, while Cass is livid when Keith causes him to get a parking fine.