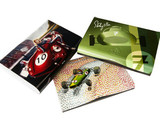 Racing legend Sir Stirling Moss, former model
Jodie Kidd
and comedian Vic Reeves have all designed Formula One-inspired set top boxes for
Sky
.
Celebrating the
debut year of its new Sky Sports F1
, the satellite broadcaster asked the three high profile people to create limited edition Sky+ HD 1TB boxes.
Moss, often referred to as 'the greatest driver never to win the Formula One World Championship', has opted for a classic design in racing green, featuring his signature in the top right and his favourite number 7 in the opposite corner.
Reeves has created a piece of almost-Impressionist artwork for his box and remote control, depicting a car from the glory days of racing.
Kidd, a passionate car enthusiast, has opted for a picture of a glamorous 'pin up' blonde woman posing next to a red racing car.
"I've always been a dedicated F1 fan and I am already hooked on this season," she said.
"For my design, I wanted to create a glamorous 'pin up girl' look, as I love the iconic vintage paintings from the era. With the addition of the red racing car, it really stands out."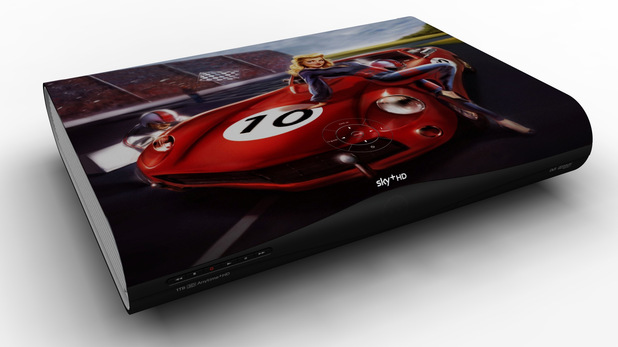 Reeves said that he is also a "huge F1 fan", and so he wanted to use his distinct art skills to give a "playful" take on old-fashioned racing cars.
"I have many happy memories watching the races as a child, and even had a poster on my bedroom wall," he said.
"I wanted my design to be playful and full of colour and because I love the shape of the old-fashioned racing cars, I was keen to include one in there. I've grown up watching the sport and intend to be glued to the action this season with my family."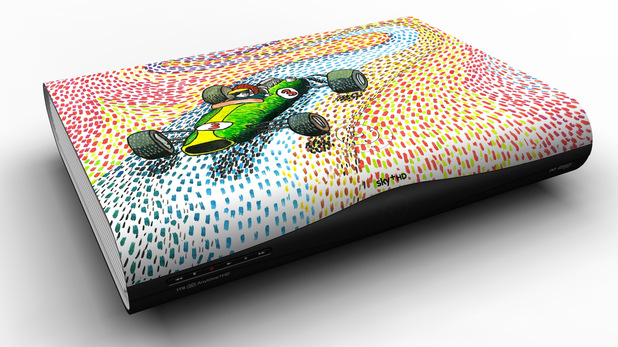 Discussing his design, Sir Stirling Moss said that it came from a car sculpture on the roof of his home, which in turn took its inspiration from the cars of his era.
"The number 7 was a crucial element as it has always been a lucky number in my family. My mother was born on July 7 and I would always get the number 7 as my racing number if I could," he said.
"I had a fair few wins driving cars with that number and, at one time when I was racing car number 43, I included a plus sign between the two numbers so they would add up to 7!
"I'm quite superstitious so everything I can control will always revolve around the number 7. The colour of my design includes a variety of racing car green, which comes in several different shades, something that many people don't realise."
The Sky+ 1TB boxes allow customers to record up to 240 hours of high definition programme, or 740 hours of standard definition content. They are also 3D ready and feature a broadband connection to access the Sky Anytime+ video on-demand service.
The exclusive F1 collection will launch ahead of the British Grand Prix at Silverstone in early July, but customers can register their interest in purchasing one of the boxes from
www.sky.com/designerboxes
.
Each box is priced at £149 for existing Sky customers, plus £10.25 per month for a HD subscription. New customers can buy one for £249 when joining Sky with the HD package.