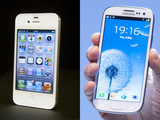 Making calls is only the fifth-most frequent use of smartphones, as the devices are increasingly becoming "digital Swiss army knives", a new report has said.
Mobile phone operator O2 said Samsung's Galaxy S3 is the latest in a wave of smartphones that are focused "beyond calls", serving users wanting a wide range of functionality.
On average, smartphone owners spend just over two hours a day using their devices, but making phone calls is just the fifth-most frequently done task, according to O2's report.
Most smartphone time was spent by users browsing the internet, at an average of almost 25 minutes a day, followed by social networking on services such as Facebook and Twitter, at more than 17 minutes.
O2 found that playing games came next (13 minutes), followed by listening to music (16 minutes) and then making calls (12 minutes).
Activity/time (minutes)
Browsing the internet - 24.81
Checking social networks - 17.49
Playing games - 14.44
Listening to music - 15.64
Making calls - 12.13
Checking/writing emails - 11.1
Text messaging - 10.2
Watching TV/films - 9.39
Reading books - 9.3
Taking photographs - 3.42
Total - 128 minutes
David Johnson, the general Manager of devices for O2 in the UK, said that a smartphone is now becoming like a "digital Swiss Army Knife".
"While we're seeing no let-up in the number of calls customers make or the amount of time they spend speaking on their phones, their phone now plays a far greater role in all aspects of their lives," he said.
O2's report also found that many people are using their smartphones as a replacement for other possessions, such as alarm clocks, watches, cameras and diaries.
More than 54% have used their phone to wake them up in the morning and just under half (46%) have stopped wearing a watch in favour of their phone.
Two-in-five (39%) smartphone users no longer have a separate camera, while over a quarter (28%) have used their phone instead of a laptop and one in ten (11%) have ditched a games console in favour of their mobile device.
But O2's report found that 71% of people still use their phones primarily for making calls, only just behind taking photographs (74%) in the most popular reasons.
O2's findings on how we use our phones:
Taking photographs - 74%
Making phone calls - 71%
Text messaging - 69%
Surfing the Internet - 69%
Alarm clock - 64%
Email - 52%
As a watch - 50%
An address book - 50%
Social networking - 49%
As a diary - 39%
Playing music- 39%
Playing Games -38%
Watching TV/films -22%
Reading books - 13%