If you want something a bit different on television this week, you might want to give
Love Life
a go! The ITV drama - written by
Lark Rise To Candleford
scribe Bill Gallagher - focuses on what happens after Joe (
Downton Abbey
's Rob James-Collier) goes travelling for 11 months, only to discover when he returns that his former girlfriend Lucy is now pregnant...
Lucy's played by
DCI Banks
star
Andrea Lowe
, who recently chatted to reporters at a screening of
Love Life
.
Read on to find out what she had to say about being pregnant while filming (but it being too early to tell anyone), working with Alexander Armstrong and Gregor Fisher, and her 'contractions face'...
Was it weird having a big bump over your real bump?
"Yeah, because my bump was really small. It was very light, this one. I've had a pregnancy bump before that was sand - and I was really glad it wasn't that because that was so heavy - but this one was light. There were some days when I was in and out of the bump a lot because we were doing the flashbacks and I'd have run back to make up and get my extensions done and take the bump off, and I was like, 'Cor, I hope it's not getting squashed'.
"It was quite funny because obviously everybody wanted to ask me if I wanted children or if I was feeling broody, because I was obviously pregnant in it. So it was quite hard keeping a straight face and I just wanted to tell people, but I had to wait."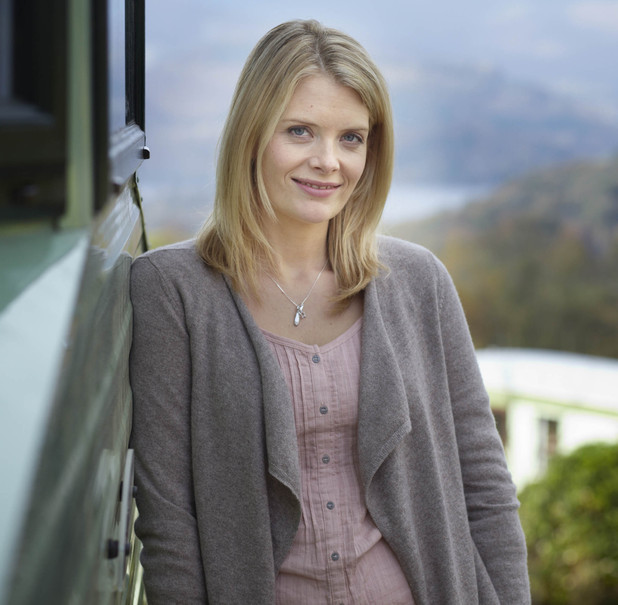 What was it like holding the real babies? Was it weird knowing you're about to have your own?
"Yeah. I love babies anyway. I really enjoyed working with these and I felt quite confident with them, but people say you're not so confident with your own. I just felt really lucky that these mums and dads even wanted to lend us their babies. I felt quite protective over them... And the mums were very good.
"Off screen, I'd be holding them and looking after them - I think they were like, 'Can I have my baby back now?' But yeah, it was lovely to work with them and they're so unpredictable that I think they bring something more real to your performance."
You and Rob have a good chemistry - had you worked together before?
"No, we only met on the first day of filming actually. I was probably more nervous on the first day than I usually am because we hadn't met. He's just really down to earth and lovely and we just got on straight away. I really enjoyed working with him - it was great."
Who did you ask for help with your 'contractions face'?
"Oh God, I was thinking, 'I hope it's alright!' I've taken my friend who was in labour to the birthing centre before, so I'd seen her. I have given birth twice on screen before so I did some research then. I remember watching videos and stuff, so that's where I got my information from.
"I'm avoiding
One Born Every Minute
because I'm planning on having a hypno birth, so apparently you're not meant to engage with the horror stories. I did watch one of those
One Born Every Minute
shows and the baby was about ten pounds and the midwife said, 'It's a monster!' I was like, 'I don't want to watch this!' But I know, I was looking at
Love Life
thinking, 'I wonder if I'm going to look like that in labour'."
We've seen lots of will-they-won't-they storylines before - how does Love Life make the idea fresh?
"I suppose that's in every relationship, whether it be a tragedy or soap. Or if it's a relationship, you wonder if they are going to stay together and how much in love they are. I think this is quite unique because I think the way Bill writes with the flashbacks and these lengthy scenes - you rarely get lengthy scenes in anything anymore where you're just purely talking and being honest and natural.
"It's not tricksy, it's just quite a simple piece and I think the writing speaks for itself. I think it's got more depth to it than a lot of romantic comedies - I think there's real pain at the core of it.
"I think it'll have kind of universal appeal because I think even if we haven't been in those situations we can relate to the situations they're in, and it's just how we make the wrong decisions - I think that's something we can definitely all relate to... There's something quite quirky about it I think."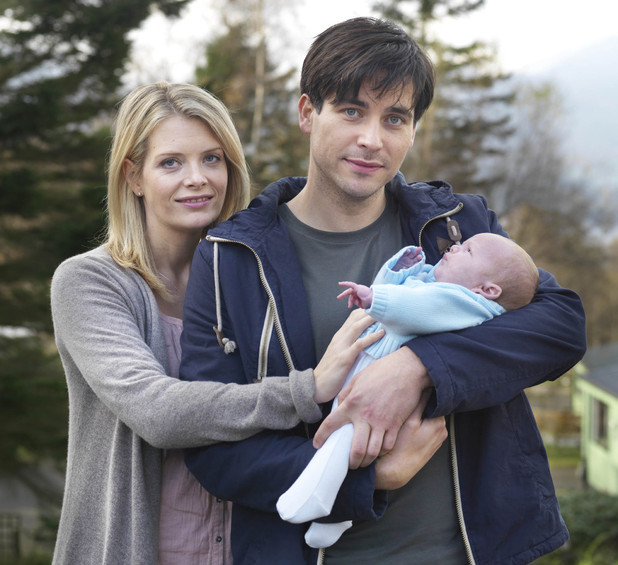 Were you worried about making Lucy sympathetic? Often a woman who has a married man wouldn't necessarily be a character we like on television.
"Yeah, actually. When I watched it I was a bit like, 'Ooh', because it looks very real. I think it's something that Lucy would never have normally done and she's in strange circumstances.
"I have to be honest and say yeah, you do get really critical of yourself and your performance and you do want people to like every character you do. I suppose that's human nature, but actually you're not doing your job so you've just got to forget about that. I think I probably worry more about what people think after I've done a job than when I'm doing it. I'm just focused on doing justice to the writing.
"I think it's all on the page, really. Bill's so talented that you just had to believe in what he'd written and trust it."
When you watch stuff, do you think, 'Oh I could have done that better'?
"I don't think it's even about knowing that you could have done it better. I think it's just something about seeing yourself that's a bit awkward and uncomfortable. It's a weird thing because as an actor you love what you do and I love being other people, but I don't do it because I want other people to look at me, which probably seems a bit strange.
"I'm quite lucky that I don't get recognised at all - I love that and I'm really thankful for that. Whereas Rob on the other hand... I think I've played a lot of different parts and not stayed in something that long. I'm normally proud of things I've been part of because of watching everyone else and how brilliant they are in it - you realise it's not just about what you're doing."
Did the other guys on Love Life become more protective when they found out you were pregnant?
"Yeah, a bit, yeah! I think that's what I was afraid of. Especially Rob, I didn't want him to feel compromised, so we really established our relationship before I told him. I don't think I told him immediately after I'd had the scan either. You know what? I still haven't told some people I'm pregnant. It's really terrible.
"I think because I was working and I have a responsibility to other jobs, things I'm contracted to do if they go again like
DCI Banks
, I wanted to honour them and let them know before everybody else knew. And then I was busy working on this so I couldn't really engage with my pregnancy, so I didn't tell a lot of people. I'm probably going to end up offending a lot of people!"
The show stars Alexander Armstrong as well, a recognisable face...
"He's never off the telly, is he?"
What was it like doing scenes with him?
"Xander was so busy that we didn't meet him until quite a way into the shoot. My first scene with him was just kissing him - we hadn't even said anything to each other! I think it was quite nice for him to do a drama and take on a role because obviously he's doing a lot of presenting, which I think he's getting a lot out of.
"He's lovely - a real gent. It's so nice to meet so many different people who are not just actors and can bring something else to it. I remember him from years and years ago when I first left university - I was a receptionist at a sound studio and Xander used to do loads of voiceovers. It was before anything else had kicked off for him, and him and Ben [Miller] used to come in and do a lot of voiceovers, and I used to make him tea! I didn't tell him that though when we were working together..."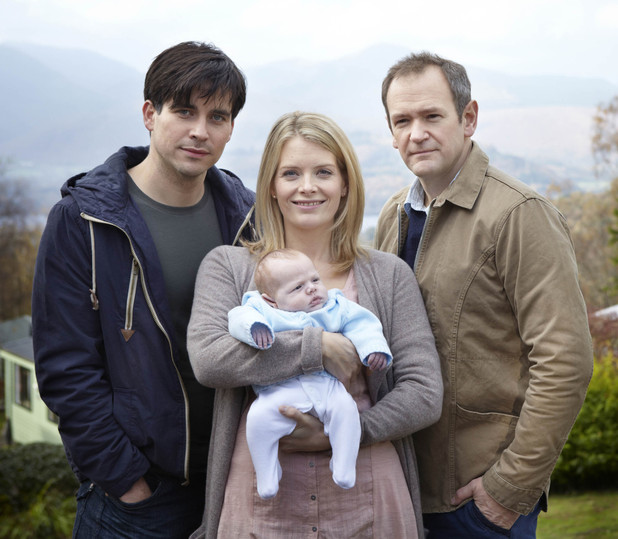 And what was it like working with Gregor Fisher, who plays your dad?
"Aw, it was lovely. It was really lovely. He's just such a pro, so you learnt a lot. He just opens his mouth and it comes out and it's brilliant, and you're like, 'Okay!'
"I think we felt really pleased that he wanted to be part of it and to play Lucy's dad because he doesn't do so much work any more - he picks and chooses and is quite selective, so it was like, 'Okay, he's obviously really behind it'. I think he had a good time, which is always a good sign - being away from home, no-one really likes being holed up in a hotel. I really enjoyed working with him."
Do you think playing a pregnant woman gave you an insight to what being a mum would be like?
"No, because the babies were taken off me as soon as they started crying! No, I think I've definitely had much more of an insight by helping my friends out, being there for my friends when they've got newborns or not being able to see my friends who've got newborns because they're going up the wall!
"I think a role allows you to access part of your brain that you might not normally go to. But this part I don't think gave me a very real idea. I hope I look like that - maybe I can get a permanent make-up and hair person by my side! I don't think anyone looks quite like that when they've had a baby!"
Love Life begins on Thursday (March 15) at 9pm on ITV1.