Julia Davis
's name has pretty much become shorthand for brilliant British comedy over the past decade. Every show she's been involved with -
Nighty Night
,
Human Remains
,
Gavin & Stacey
,
Big Train
- has an air of modern classic about it.
Her latest wickedly dark series, Sky Atlantic's
Hunderby
, is yet another work of delicious comic genius that should be near the top of several end of year TV Best Of 2012 lists.
Digital Spy
caught up with Julia for a quickfire Q&A about her TV past, present and future.
When you came up with this bonkers concept, how did you feel going to pitch it to people? Is it an idea you've had for a long while?
"Yeah, ages actually. Since the first
Nighty Night
. At the end of the first
Nighty Night
I came up with the idea. I slightly wanted to do it instead of a second series, so yeah, it's been around a while."
What was the initial response?
"Initially it was going to be a film. There was briefly talk of working with Revolution and Michael Winterbottom. There was always the question about whether there was enough interest in this world and how to make it work.
"Luckily for me Lucy Lumsden and Stuart Murphy, who were at BBC Three when I did
Nighty Night
, really liked it, so once they saw it at Sky it was quite a quick process and they quickly got it."
What was your thinking when you first got that idea? What inspired it?
"Partly it came from wanting to be in a period drama and also finding them quite funny or seeing potential in them. In terms of inspiration, lots of things like
Rebecca
and Tom Hardy stuff like
Tess of the D'Urbervilles
.
Rebecca
is the most obvious one. I think it's just wanting to play around with the language of that time that was one of the main joys of doing it really."
Did you go back to watch old films of Rebecca or read the book?
"Yeah, I've read the book a lot and I rewatched it. I did look at a lot of things and another big thing in the process was
Barry Lyndon
because that's all natural and candlelight and stuff like that, which is another thing about the look of it."
There is a hilarious sex scene in the first episode. Did you enjoy watching the actors go through that awkwardness on set?
"Yeah, I do. But usually they do as well. In that case it was a tricky one. Alexandra Roach, who's playing Helene, is a lovely young actress and she's from a much more drama background and she's the one who had to suffer that scene.
"I said to her before, 'Are you going to be alright with this? There's nothing going to be actually happening but you've got the crew around'. But she was pretty game for it, and Alex MacQueen is very good fun and up for it. It's basically just me going, 'More and more stupid, more noises'. I can't deny that it's good fun to do."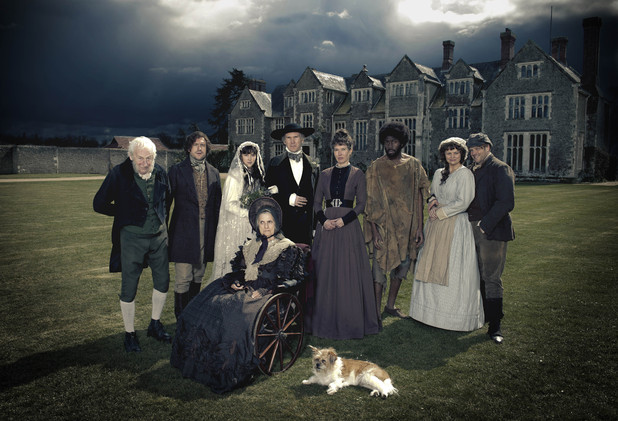 Will it get as dark as Nighty Night? That's what you're well known for and that did get quite dark!
"I always find that quite a difficult question to answer. I don't know why but I don't always see the darkness. In a way it gets more stupid as it goes on but there is one scene that I can think of that is quite sad."
Do you think we will have any sympathy for your character Dorothy as the series progresses?
"You might by the end because unlike Jill there is some motive to her. She is really quite a sad character. So yeah, mildly, but it's always difficult with comedy because you can't do much of a study of the character or in fact change them too much. It's like Alan Partridge or Basil Fawlty - you don't want to see them learn too much because then it's not funny."
You tend to shy away from the limelight and celebrity. Is that deliberate?
"It's a funny one and I kind of think to myself, 'Do I?' I was speaking to someone the other day and me and Simon Pegg started out together and now he has a whole Hollywood career. I can't see myself in that world. I really try not to and to stay in my little world."
Would you like to do another period drama or do you think they might not work with you now?
"I mean, I'd love to and I think I could play an evil person in a period drama, and they sort of had a phase with comics in period dramas like with Johnny Vegas. But I guess doing something like this has probably put pay to any chance I had."
What do you think it is about period drama that makes it ripe for sending up?
"I think it is the earnestness. You take the key, clichéd characters that there always are and there's room for exaggerating in these stories."
Watch the trailer for
Hunderby
:
What jobs did you do before you were famous?
"I worked in a supermarket for a year; I worked in a finance department at a university, a pub, busking and singing. I tried to be a nanny for about three weeks."
How much money did you make?
"Very little."
Is there scope for a second series of Hunderby?
"I don't know. I wrote it as a single series but potentially there could be. When you see the ending you see a lot of stories are closed off but I don't know... there could be."
Could there be any more Nighty Night?
"I'd love to do more
Nighty Night
but that's always down to commissions really. It's weird as well because everyone's moved on. I don't know if I could get all those people back."
Why do you think the BBC didn't pick up Lizzie and Sarah? It got an awful timeslot and no promotion.
"I'm really glad people who watched it did like it. I think it's that cult thing where it's only a few people who did see it though sadly. I don't know why it didn't get a series. It's just down to who's in charge, if they don't like it..."
If Sky wanted to remake it and give it a full series, would you be interested?
"Yes. But I suppose they have to be careful they don't just take things from other channels, otherwise [new] things would never get made."
Hunderby airs on Mondays at 10pm on Sky Atlantic