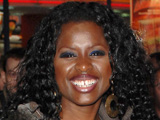 She's interviewed everyone from Tony Blair to Elton John, set up her own production company (the cheekily-titled Lipgloss Productions) and even nabbed an MBE for her charity work. Is there anything June Sarpong can't do? The lively Londoner's recently bid farewell to the
T4
sofa, but she'll be returning to the fold for a number of one-off specials over the next twelve months. Her first assignment? Interviewing Al Gore for
T4's Global Warming
. After Elton, it probably seemed like a walk in the park.
Why have you decided to leave T4's permanent lineup?
"I think I've had a good run, really. I've really enjoyed my time and done some really exciting things there. I'm someone who really believes in leaving on a high, and I've got so many projects coming up next year that there aren't enough hours in the day to do them all."
What will these projects entail?
"Well, I've got a new show on Channel 4 that I'm not allowed to talk about, lots of celebrity specials and more political interviews as well. I'll still be within the Channel 4 stable, just not on the
T4
sofa, as it were. I'll be doing a total of twelve specials for
T4
next year, in fact."
You've got one of these specials coming up now, haven't you?
"Indeed. I'm doing a show called
T4's Global Warming
, which, as its name suggests, is about global warming! I spent a weekend with Al Gore for that, learned all about his
Inconvenient Truth
lecture, and even got to interview him for it. It's been fantastic."
After your Tony Blair interview, not to mention your involvement with the Prince's Trust, do you ever feel like a spokesperson for Britain's youth?
"Oh my God! I don't really feel like I'm speaking out for people, but I suppose I'm one of the few people from my generation who does talk about these things. I'd never call myself an 'ambassador' though - I think people are their own ambassadors."
Do you intend to continue mixing celebrity specials with more serious, political projects?
"Yes, I do like to mix it up a bit. In America there's a lot of cross-fertilisation between TV genres - someone like Katie Couric does a bit of everything - and I want to be able to do both. You know, I love doing all the political stuff, but I also love setting people up and doing dating shows. I've got some stuff coming up next year which is based around internet dating and social networking. That's really exciting. Leaving
T4
gives me the chance to do stuff like that."
Are you readying yourself for a ratings battle with Holly and Fearne then?
"Haha! I think their show might be for a slightly younger demographic - mine's aimed at people in their thirties."
Would you ever want to present a big Saturday night show like The X Factor?
"Um... I wouldn't say it's particularly an ambition of mine, but I wouldn't say it's not. I'm so impressed with Dermot on that show, though. It would be pretty hard to top that! But I'd like something like
Blind Date
, I suppose. That would be fun!"
What's been the highlight of your time with T4?
"Obviously the Tony Blair stuff, but I'm really proud of all the big bands that we've helped to break on
T4
. So many bands got their first showcase on
T4
- everyone from Arctic Monkeys to Starsailor to Scissor Sisters to Busted! I think
T4
is the only show on TV that gives new and unknown bands a big platform. You have to be an established act to appear on other shows."
Why do you think it's been so successful?
"I think the programming is absolutely brilliant. Our commissioners really understand the demographic we're aimed at, which is the 16-35 audience, mainly students and young families. People love seeing the big American shows like
Friends
and
Ugly Betty
next to stuff like
Shipwrecked
. I also think they've allowed us, as presenters, to have a laugh, and the viewers really respond to that. That's why it works."
Do you really watch all the T4 shows?
"We do!"
So you can never skip a week of Hollyoaks?
"Not as often as we'd like to - we just can't!"
Would you like to work with Steve Jones again in the future?
"You know what, I'd never even thought about, but I'd love to. It's great to see how he's developed over the years and got better and better.
T4
really does nurture people - look what they've done with Miquita Oliver. They're so good at nurturing new talent."
What advice would you give to Rick Edwards, the presenter who'll be stepping into your shoes?
"I don't think I necessarily need to give him any advice. Rick's relaxing a lot more, he's funny and he's good-looking. He'll be absolutely fine."
T4's Global Warming airs Sunday at 2.30pm on Channel 4.