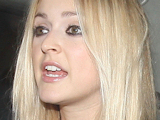 Radio 1 DJ
Fearne Cotton
has revealed that she was bullied at school for her early TV career.
The
Celebrity Juice
star said that her appearances on children's shows such as
The Disney Club
and
Diggit
led to her being teased during her teenage years.
"I got a huge amount of s**t for it from the older girls. I would want to bunk off school most days. I had a tough time for a while," she told
The Guardian
.
"They would shout stuff across the lunch hall, bitchy comments, and throw things. It happens in every school, there's always an element of bullying. But my friends were brilliant because they stuck up for me and would be mouthy back."
She added: "To be doing what I'm doing now, it was worth it, in a cheesy way, to have gone through a tiny amount of s**t at school."
Cotton also claimed that she ignored criticism of her work on Radio 1 and described TV critics as "very negative people".
"I'm a very positive person and people might find that saccharine, but that's how I like to live my life. I have to ignore them otherwise you would feel absolutely crushed," she said.