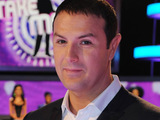 Paddy McGuinness
has said that dating show
Take Me Out
is like a "big girls' night out" for the women who take part.
The presenter, however, assured
Heat
magazine that the contestants are not drunk when they appear on the show.
McGuinness said: "It is kind of a big girls' night out for them! There are all these lights and there's all this music and excitement.
"They're from all over the country and all do different jobs, so when they get together they do let their hair down. They're not pissed though!
"It's just that whole party vibe that makes the show. You don't want 30 girls sat there all looking miserable."
Asked if the girls have scraps off-screen, he added: "I try to get that going. I say 'Oooh, what about her? She said that, and you said this...'
"But they're usually quite a tight unit - until it comes down to just two of them at the end, fighting for a date. That's when the claws come out."
> Click here to read our recent interview with Paddy McGuinness