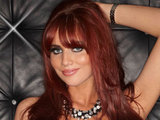 Nominees, winners and members of the entertainment industry have been responding to last night's BAFTA TV Awards.
A number of winners have thanked fans and colleagues for their congratulations on Twitter, while
The Only Way is Essex
's 'YouTube Audience Award' victory has also been a major talking point on the social networking site.
> 'TOWIE', 'EastEnders', 'Sherlock' win BAFTAs
> BAFTA TV Awards 2011: The winners in pictures
> BAFTA TV Awards 2011: The winners in full
> BAFTA TV Awards 2011: Red carpet pictures
> Read our full coverage of the BAFTAs
Here's our pick of the reactions so far:
Samantha Faiers
(YouTube Audience Award winner,
The Only Way Is Essex
): "Thanku so so so much to everyone who voted!! Love u all! Now time for bed! Up so early ! Mwah so so happy."
Amy Childs
(YouTube Audience Award winner,
The Only Way Is Essex
): "Omg thank you everyone we won award at the baftas xxxxxx omg."
Dr Christian Jessen
(previous double BAFTA winner): "The 2 BAFTAs I've won in the past suddenly seem much less of an achievement given that TOWIE won one tonight. Their impact has been lessened."
Lord Sugar
(previous BAFTA winner): "Brilliant The only way is Essex won a Bafta, u have no idea what a smack in face this is for the intellectual snobs lovies in TV production... Loved looking on the faces of the audience at the bafta when Essex won.Voted by the public, not by a self gratifying industry panel. Brill!"
"One day Piersy u may get a bafta. Oh, I have one. But you will get there one day don't worry. If you need advice let me know."
Piers Morgan
(previous BAFTA winner): "@Lord_Sugar I got one last year, Shugs. Relax."
"TOWIE wins a #BAFTA - and 1000 luvvies quietly seethe. Hilarious... Very happy for Sir Trevor though - a great broadcaster."
Martin Brundle
(winner, BBC Sport's Formula 1 team): "Thanks for kind comments re Bafta. Some of us lucky to be on screen but team of 40 creative people produce 150 hrs live BBCF1TV each year."
Jake Humphrey
(winner, BBC Sport's Formula 1 team): "SO delighted to have won the @bafta. Team put so much effort into the coverage because we realise how lucky we are to do this job."
Dave Vitty
: "Great to see Sir Trevor MacDonald receiving the respect he deserves at the BAFTAS. A standing ovation for a brilliant broadcaster."
Philip Schofield
(winner,
The Cube
): "
The Cube
wins a BAFTA!!! yahooooooooo..."
Hugh Bonneville
: "Tom Hollander's brilliant idea - #
Rev
, written by James Wood, produced by @kentonallen - superb collaboration. Result: #bafta."
Chris Fountain
: "Was a real honour being at the BAFTAs tonight, surrounded by such talent was very exciting."
Danny Baker
: "SENSATION: Ten minutes after Trevor MacDonald given Fellowship Of BAFTA, Swaps with Martin Freeman for Fellowship Of The Ring."
Steven Moffat
(winner,
Sherlock
): "Oh. My. Head."