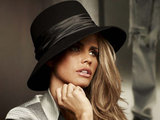 Katie Price
will open up about raising her disabled son Harvey in a new documentary for Sky Living.
In
Katie Price: Standing up for Harvey
, the glamour model-turned-reality TV star aims to highlight the realities faced by many families, by providing a frank account of raising Harvey - who suffers from a condition called septo-optic dysplasia, has restricted sight, life-threatening hormone deficiencies, learning difficulties and autism.
Price will attempt to seek out Frankie Boyle in the show - following the comedian's controversial comments about her and Harvey - and even encourage Boyle to meet Harvey for himself.
"Harvey is a wonderful boy. I am so proud of how he deals every day with his disability. He has been my one constant over the past eight years and, alongside Junior and Princess, remains the most important person in my life," Price said. "But of course Harvey doesn't have the voice to defend himself, so through this documentary I hope to encourage other people to appreciate the difficulties that children with disability and their parents face every day."
The 33-year-old added: "I am lucky to be able to make this film and hope it helps those who struggle to cope with disability and prejudice without the support network I have."
Price will explain her reaction to
Boyle's widely condemned joke about Harvey
and why she was prompted into fighting back against using disability for comedy purposes.
"In a bid to explain how the 'joke' affected her personally, Katie's ultimate wish is to speak directly to Frankie, and even encourage him to meet Harvey for himself," a description of the show explained. "Will he agree to a meeting or will he avoid explaining his position? Will he apologise?"
Price is currently filming new series
Discovered by Katie Price
and has confirmed that she will record a second run of fly-on-the-wall show
Katie later in the summer.
Katie Price: Standing up for Harvey
will air on June 30 at 9pm on Sky Living.
> Frankie Boyle's Katie Price joke signed off by C4 chief