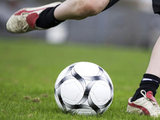 Live football coverage dominated primetime television last night, according to overnight data.
Match of the Day
- featuring Spain's dramatic penalties win over Portugal in the Euro 2012 semi-finals - drew an average of 8.84m (39.1%), peaking at more than 12.9m (55.9%) in the final 15 minutes.
Wimbledon continued in the evening on BBC Two, managing 1.4m (7.9%). 906k (4%) saw
Today at Wimbledon
.
The Secret History of Our Streets
followed with 1.14m (4.6%).
On ITV1, a two-hour
Midsomer Murders
instalment grabbed 3.43m (14.8%) and 159k (0.7%) on timeshift.
Channel 4's
Supersize v Superskinny
and
24 Hours in A&E
averaged 1.27m (5.5%) from 8pm (+1: 116k/0.5%) and 2.08m (8.4%) from 9pm (363k/1.8%) respectively.
Channel 5's
NCIS
earned 1.22m (4.9%) and 126k (0.6%) on +1. Big Brother had 1.08m (5.3%) and 8pm's
Emergency Bikers
was watched by 1.19m (5.2%).
Overall, BBC One won primetime with 38.7%, beating ITV1's 17% (+1: 0.7%). Channel 4 finished with 5% (+1: 0.8%) and Channel 5 and BBC Two both took 4.6% (Channel 5 +1: 0.2%).
BARB ratings data supplied by Attentional