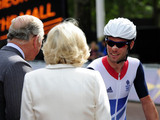 Mark Cavendish
's Team GB cycling road race was seen by a peak of over 5.7 million on Saturday afternoon (July 28), overnight figures suggest.
Gold medal favourite Cavendish, who finished in 29th place, attracted a share of 46.5% at 3.30pm as the race reached its closing stages.
BBC One's coverage, stretching from 1.15pm to 4.45pm, averaged 3.65m (32.1%). Archery followed from 5pm with 3.09m (20.5%).
From 7pm, the finals of the swimming events pulled in 6.31m (31.2%), peaking with 8.5m (41%) at 8.15pm - making it the most popular event of the day.
Gymnastics and sailing were also popular, as viewers flocked to BBC Three for more action. 879k (6.8%) watched between 2pm and 7pm, after which more swimming grabbed 905k (4.6%).
Morning rowing appealed to 3.36m (40.1%) between 9am and 11.30am, prior to which
Olympics Breakfast
scored a similarly impressive 1.62m (45.9%).
As expected, other broadcasters were obliterated by Olympics fever, with ITV1 putting up the bravest fight as a repeat of
Midsomer Murders
drew 2.3m (10.9%) between 8pm and 10pm, adding 223k (1.1%) on +1.
Channel 4's movie
The Women
logged a decent 1.29m (6.7%) from 9pm (+1: 306k/2.2%), while Big Brother entertained just 925k (4.3%) on Channel 5. Classic sitcom
Dad's Army
was BBC Two's best-rated show with 1.42m (7.2%).
Overall, BBC One topped primetime with 29%, versus ITV1's 8.8% (+1: 0.8%). Channel 4 finished third with 5.4% (+1: 1.1%), BBC Three took fourth place with 4.6%, and Channel 5 was aptly fifth with 4% (+1: 0.3%), ahead of BBC Two's 3.9%.
Meanwhile, ITV2 picked up a good portion of non-Olympics followers, fetching 957k (5%) for its repeat screening of James Bond film
Quantum of Solace
from 9pm (+1: 265k/1.5%).
Transmitting for 24 hours, BBC Three predictably recorded its best ever all-day share of 5.9%, beating all its terrestrial competitors but ITV1 (6.2%) and BBC One, which led the way with 29.9%.
BARB ratings data supplied by Attentional