All 14
Strictly Come Dancing
celebrities took to the dancefloor tonight to perform either a Paso Doble or a Quick-step. Keep reading to find out what Craig, Alesha, Len and Bruno made of their performances.
Here's what the judges had to say:
---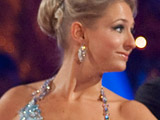 Ali Bastina and Brian Fortuna
Len: (8) I must say Ali, that was right up my alley. I loved the mix of basic steps and clever choreography. Occasionally, there was a lack of proper body contact, which from what I've read in the papers, did surprise me!
Bruno: (8) Ali, I love watching you. You bring to the stage a soft glow of a summer's sunset. I couldn't take my eyes off you. You are a natural dancer. If you just relax a little bit more, you'll be able to play it a little more.
Craig: (8) I actually liked it very, very much. You had magnificent lines and you handled the difficult timing with great care. Your left elbow had a mind of its own, but only on occasion. All in all, it was amazing.
Alesha: (8) Once again, a really classy routine and a beautiful song. I know in this dance it's really difficult to breathe, but I noticed that happened at times with you and it was restricting you a little. Without the proper breathing it's difficult to get that extension, but apart from that it was gorgeous.
Score: 32
---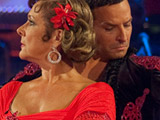 Lynda Bellingham and Darren Bennett
Len: (7) You kept in character throughout the dance. All the steps were there. But it was a bit like
Masterchef
. All the ingredients were there, but possibly not the flavour. I think it was possibly your best dance so far though.
Bruno: (6) All the steps were there, but where was the fire inside Lynda? How long do I have to wait for? If you stay in the competition you have to ignite it. The body has to go with the face.
Craig: (5) I certainly saw a different side to you. I think it lacked any real connection with your matador. There were fantastic lines, but it needed a lot more movement as a whole.
Alesha: (7) Lynda, I think whatever dance you do, there will be character in abundance. I thought there were some good shapes and some good use of your hands. The intensity was fantastic. But I think your walks lack purpose.
Score: 25
---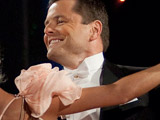 Chris Hollins and Ola Jordan
Len: (6)
Bruno: (6) Chris, I know what happened. You messed it up badly, haven't you? You dived in and hoped for the best. But you recovered and I'm sure there's a dancer in there, which I said the first time I saw you.
Craig: (5) You have to point your feet on all kicks, that is absolutely essential. The kicks at the beginning were completely out of time. Your frame is very loose, your boot was sticking out and you need to pull up a little bit more. The footwork, I have to say, wasn't too bad.
Alesha: (6) I think dancing does come naturally to you, but there's a difference between hearing the music and feeling it. I think it's evident that you can do both. But at times, even though the music was 'wow' and 'springy', you were a bit flat. There was a slip - and make sure you point that toe when you kick. It looks like you are going to kick a ball.
Score: 23
---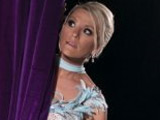 Zöe Lucker and James Jordan
Len: (8) You are a highly talented dancer and what you showed us out there was very good. The music was a modern twist and when you watch dancing, your eyes and ears co-ordinate. That needed some more drama and passion, but that was down to the music.
Bruno: (8) That's how you work those lines, girl. Where was the raunch tonight? From you, I was expecting more sex! But, in spite of it being restrained it worked tonight. Beautiful.
Craig: (7) I did feel you were particularly in control of that dance and you used the skirt really well. That can be hard, when you are looking for the end of it. The shapes and lines were absolutely great. James, you did really well with that music. I thought you did brilliantly with it.
Alesha: (8)
Total: 31
---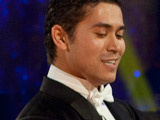 Rav Wilding and Aliona Vilani
Len: (6) You captured the fun of the dance with the cartwheel. It's hard for a big bloke to look light and fluffy. It was unfortunate that you got a really difficult dance that didn't suit you.
Bruno: (6)
Craig: (3) Oh, dear! Disjointed would be one word that described it. You looked like you were fighting each other. There was a lot of gapping going on. Very laboured, the arms in the Charleston section were orangutan-ish. The choreography needs to be more sensitive to Rav.
Alesha: (5) It was a bit cheesy. I'm not sure if it was a good cheese or a bad cheese. The thing is, there's all this faffing around at times it was uncomfortable to watch. At times you were in a vulnerable position. I think you were left alone far too much, Rav.
Score: 21
---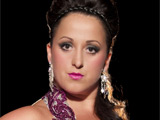 Natalie Cassidy and Vincent Simone
Len: (7)
Bruno: (7) Natalie, when you get your bum into gear you are great. But at times the gear goes in neutral. You've got to keep it going. You've got to sustain that energy all the time, all the time.
Craig: (6) That has the makings of a really great routine. However, darling, your arms are really inconsistent. Your back needs a lot more strength. You need to push those shoulders down. I loved the content, but it wasn't fully realised.
Alesha: (8) Natalie, whatever you do, you do it with conviction. Once again you brought the drama to the dancefloor. I loved the Flamenco section. I was looking out for your posture and I have to say, I think there was an improvement.
Score: 28
---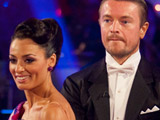 Craig Kelly and Flavia Cacace
Len: (6) The trouble with the Quick-step is that when you go wrong it's like a snowball. There's a domino effect. It's very difficult to catch up for a male celebrity. The clicks got on my wick at the start, but that did have the potential to be a top-notch dance.
Bruno: (5) Craig, I'm glad that's all over because that was a disaster. So much went wrong. You were wandering around there like Humpty Dumpty. I know things can go wrong, but try to cover it up. This was really, really bad.
Craig: (4) I think you did try to cover it up, which was a saving grace. It did lack musicality, the timing throughout was very questionable, the footwork just went awry.
Alesha: (6)
Score: 21
---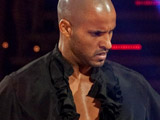 Ricky Whittle and Natalie Lowe
Len: (9) You could smell the blood and the Spanish onions in that. You did make a little mistake when you were zig-zagging with that, but other than that, I couldn't see anything else wrong. Top notch!
Bruno: (9)
Craig: (8) Yes! Yes! Yes! I cannot say it was perfect because you did mess up a few steps and your arms were out of sync at one point, but you were fabulous.
Alesha: (9) I have never seen any male celebrity across any
Strictly Come Dancing
come out and do a Paso Doble like that!
Score: 35
---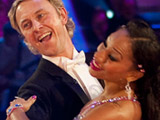 Jade Johnson and Ian Waite
Len: (8) Don't get me wrong, I liked it, and I know you are good at the long jump, but I don't think you need to practice it in the Quick-step! There were lovely flowing movements and it's difficult for a tall person to control a quick dance like that, but you did it really well.
Bruno: (8) Jade, I think Bruce is right. No one can move their legs in the air like you. It was light-footed and I agree with Alesha. You've listened to our advice and criticisms and come back better. That's a competitor!
Craig: (7)
Alesha: (8) I really liked all the flying around the room. If you've got the legs - use them! I've never seen anyone cover that floor so quickly. It's so hard to keep body contact in that leaps, which we saw. But I think you have a great mix, Jade, of personality and good technique.
Score: 31
---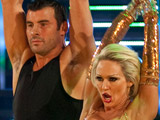 Joe Calzaghe and Kristina Rihanoff
Len: (5)
Bruno: (5) Joe, the belt had all the sparkle, but the Paso was a bit of a fiasco. It's a stylised dance and you didn't have that. We have to be honest and you have to listen to the music. Maybe go home and listen to the track, so you can be honest. You can be revived.
Craig: (3) Starchy, stiff and too static, but it did have a lot more movement than a dead man dancing. So that at least shows an improvement.
Alesha: (6) An improvement, Joe. I was wondering about the face, but your expression was good throughout that. The only thing is, you've used your hands throughout your career and they were down by your side too much. I like how strong you are with Kristina and it was nice to see an improvement.
Total: 19
---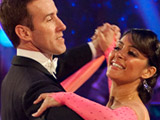 Laila Rouass and Anton du Beke
Len: (8) A lot of the routines tonight have been too flashy for me. Like cheap jewellery - sparkly, but not top quality. At last a diamond comes out to the floor. Beautiful choreography, Anton, such a shame about that hiccup at the end.
Bruno: (7) Laila, you were nearly back on the game. There were some moments of greatness, but then your footwork went to pieces. You know that! But when you get it right - classy, elegant and beautiful. But if your feet are wrong, we have to point it out.
Craig: (8) Your timing was out at the end, but I loved the smoothness of that routine, it was very Anton du Beke! Very easy on the eye, very classy and danced with absolute precision.
Alesha: (7)
Total: 30
---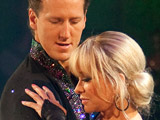 Jo Wood and Brendan Cole
Len: (6) I always call you have-a-go Jo. Craig's right, you need to be a bit firmer and not so loose in your body. But, it was your best dance to date.
Bruno: (5)
Craig: (3) I feel as though it's your central core, which is failing you. It made it very heavy and like a dead weight on Brendan's shoulders. But I have seen some improvement.
Alesha: (6) I thought you were really intense all the way through. You acted that really well. After last week, I think you did well to come out with that and for me, that was a much better dance. You need to practice your balance and there must be some exercises you can do. When you are not in Brendan's hold, I worry you may wobble and fall over.
Total: 20
---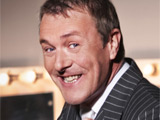 Phil Tufnell and Katya Virshilas
Len: (6) I think I put the mockers on your dance tonight. You got virtually to the end, I thought 'he's not going to go wrong', and then you did. The footwork was good, more good than bad anyway. It was ok, but no KO. We can't take [the injured knee] into consideration.
Bruno: (7) You really have this happy-go-lucky personality and you two have a great personality. You were both sailing away, but then you hit the iceberg! You didn't quite sink, but next time, you'll have to do it right all the way along.
Craig: (6)
Alesha: (6) It's a shame because I would have scored you higher, but you did lose your way a little. That aside, you are light-footed, you are a great couple and you work brilliantly together. If you weren't in pain, I wouldn't have noticed. You make people smile.
Total: 24
---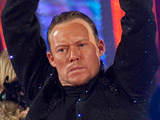 Ricky Groves and Erin Boag
Len: (7)
Bruno: (7) Ricky, you were rampant! You were like a bull in mating season. Forget about the music, forget about the artistry - I just wanna get it now! It's insanity!
Craig: (7) Well, I would have liked to have seen a little bit more finesse. However, there was great story-telling and you exploded at the magical moments. Your hands looked like ice cream scoops at moments, but it was Paso to be proud of.
Alesha: (8) Ricky that was genius! I never thought I would see comedy in a Paso Doble. To top it all, your technique wasn't all bad. Spot-on Ricky!
Total: 29