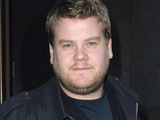 Strictly Come Dancing
pros Darren Bennett and Lillia Kopylova have claimed that
James Corden
and Kylie Minogue would be their ideal dancing partners on the show.
The duo, who have been part of the BBC One ballroom contest since 2004, also admitted that they were still in the dark as to whether they would be involved in series eight later this year.
"No-one knows. We don't know who the celebs will be, who the professionals are, the format or timing of the show. We normally find out in June," they said.
When asked for his dream celebrity partner on the show, Bennett said: "Kylie Minogue! And it's not just because she can really move... it's a height thing, she's short, I'm short. But seriously, somebody who really wants to be there and wants to learn... it's very important that your partner is willing to put that time and energy into dancing."
Kopylova answered: "Someone with personality as you spend all day everyday with someone you've never met before, so it's nice to have a personality - someone like James Corden would be great - and he seems a good mover too."
Kopylova and Bennett launch their 'Latin Fever' tour at Brighton Dome on Saturday, June 5. Tickets are on sale now.