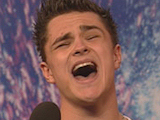 Britain's Got Talent
star
Shaun Smith
has insisted that he will stay loyal to his girlfriend.
The 17-year-old singer, who impressed the judges with his version of 'Ain't No Sunshine' on Saturday's show, has been dating 16-year-old Emily Abbotts for 11 months.
"She thinks I'm going to run away with some random woman but I'll never do that," he told
The Sun
.
"She means too much to me and really helps me out by telling me what to wear."
Smith, who is the bookmakers' second favourite to win the ITV1 show, was compared to Simply Red singer Mick Hucknall by Simon Cowell.
The rugby fan from Lichfield won a Staffordshire Pop Stars talent contest when he was 14 and has also appeared as an extra in
Casualty
.