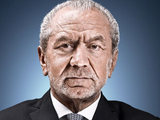 Prokofiev's 'Dance of the Knights' is back, Nick Hewer's got a fresh batch of bitter lemons and Lord Sugar's got a grump on because the whole country's a blaardy bunch of moaning pansies when it comes to the economic crisis. Series seven of
The Apprentice
kicks off in style tonight and
Reality Bites
will be bringing you live commentary on all the action. Share your views in the usual way at the bottom of the article and send you funniest Tweets to
@dsrealitybites
- you might even get a mention in our little old blog.
22:00:
That's all for tonight folks. Feel free to join in the discussion on Twitter by chatting with me (
@dsrealitybites
) and share your views on episode one at the bottom of the page. Same place, same time tomorrow? We'll be right here.
21:56:
YOU'RE FIRED! Edward 'Atta' Hunter is given the waggly, evil finger of death by Lord Sugar. Despite a tearful plea where it appears his voice is breaking and a deadly stare from the boardroom door, there's no saving Ed now. It's a case of dead wood. There's a final chance for him to dish out his "roll with the punches" line. He's rolled with more punches than Mike Tyson's home-gym, the poor bloke.
21:52:
Edward Hunter is floundering. You know you're on to a loser when you start spouting off about the fact you put your hand up for Project Manager and think that's a Get-Out clause. "I'm the youngest and shortest here," adds Edward, bizarrely. We half expect him to follow up with, "I'm the one with the biggest jaw, the only one called Edward, the only one with a rubbish beard." What a strange man.
21:48:
So it's the boys Team Leon-trepeneur (aka Team Logic) who are back in the boardroom. Karren Brady gets a bit fruity with Leon, taunting him for his poor orange squeezing skills. Meanwhile, Nick Hewer objects to Alex Britez Cabral's "back office" tactics. "A good place to hide," coos Hewer with the bitterest of bitter lemon winces.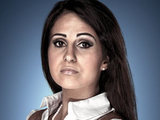 21:42:
The results are in and PM Melody Hossaini has triumphed with Team Venture. Can you hear a collective rumbling groan across the nation? That came after Lord Sugar's 'We've heard the melody, let's hear the chorus' one liner. Come on Shugs, you're better than that.
21:36:
Back to the boardroom! Lord Sugar is gunning for Edward Hunter. The boys' project manager does a fine line in waffle and management speak. "I don't fit the mould," he mumbles. He appears to be playing that game from
The Two Ronnies
where you answer the question asked once previously, which is very confusing for all concerned. "Why did you want to be Project Manager?" "Oranges."
21:32:
Vincent is leading the boys' team's door-to-door sales. "Have you had your five a day, yet darling?" "Fancy a suck on my lemons?" "Who wants to see my lemons?" OK, he may not actually have said all of those.
21:30:
The girls' team are singlehandedly proving that the recession is no more as they manage to flog boxloads of piddling, p*ss poor boxes of fruit salads for £2-a-go. The only problem for the girls' team at the moment is Edna. A woman whose middle name appears to be Stingy. Stingy or stupid. Take your pick.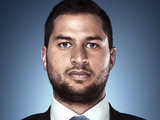 21:23:
Edward Hunter is already getting some backs up on the boys' team. He has a catchphrase though and everyone loves a catchphrase, right? Edward Hunter's "roll with the punches" is no "nice to see you, to see you nice" though. Leon Doyle has been relegated to orange juicer in Team Leon-trepenuer. Poor chap. He reminds me of myself when I was stuck working on the school tuck shop as a whippersnapper.
21:18
Every year you think
The Apprentice
candidates can't get any more idiotic. And then this happens: "Is that an orange?" The boys' team, who between the eight of them don't know how to make a tomato soup, have just purchased 17 kazillion oranges and are planning on flogging OJs. This will not end well.
21:16:
What would you call your Apprentice team? I'd go for Team Chunk, Team Team or Team Pineapple.
21:14:
The Project Managers have been selected. Melody Hossaini, who claims to have been taught by Al Gore and the Dalai Lama, for the girls on Team Venture. Edward 'roll with the punches' Hunter for the boys.
21:10:
It's team naming time. The greatest moment in any series of
The Apprentice
. The girls choose Venture, which is as bloody awful as expected. The boys opt for Team Logic after dismissing Leon Doyle's Team Leon-trepeneur suggestion. We'd have gone for Leon-trepeneur and will be sticking with that for the rest of the series.
21:07:
Lord Sugar is giving the lucky 16 a grilling. "I ain't Saint Alan, the patron saint of blaardy losers", the grizzly bear grumbles. He dishes out the rules for task one. Girls' and boys' teams handed £250 of wonga and asked to make profit on fruit and veg. Simple.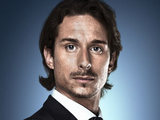 21:04:
It's the usual intro. Lots of big claims ("I'm unstoppable", "I will make Lord Sugar millions"), but as we all know. The bigger the claims, the bigger the fall on
The Apprentice
. Vincent Disneur is catching our eye from the start. He's the one that looks like a cross between George Lamb and Mickey Pearce from
Only Fools and Horses
. Bringing the pencil moustache back for the hoody generation.
21:00:
Admit it. You're singing the theme tune. We are as well.
The Apprentice
is back. Strap yourself in. Who will be joining the Lord Sugar firing club? The members of that club Adenike Ogundoyin, Ben Stanberry, Andy Jackson, Nicholas de Lacy-Brown, Anita Shah and Dan Harris. A mighty fine selection of berks, wazzocks and imbeciles.
Check back at
9pm
when we'll be bringing you live commentary on episode one.
> Q&A: Lord Alan Sugar (The Apprentice)> Apprentice audition videos: The boys> Apprentice audition videos: The girls> Q&A: Apprentice winner Lee McQueen>The Apprentice: Series seven preview >The Apprentice: Episode one preview> Read our full coverage on The Apprentice