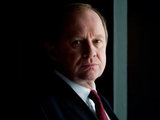 Spooks
writers
Sam Vincent
and Jonathan Brackley have admitted that they were nervous about writing the show's final episode.
The pair told
Cult Box
that wrapping up the long-running spy drama was "an exciting responsibility [and] a daunting honour".
"We've always been fans and that's why we think it's absolutely the right decision [to end the show]," they explained. "The show deserves to end properly, on a high."
They added: "When [production company] Kudos asked for our opinion, we said we'd hate to see it cancelled on a cliffhanger. It just wouldn't be right, or fair on the fans.
"Call us suck-ups, but you have to really admire Kudos for having the confidence to kill off a very successful show purely because it's the right thing creatively."
Vincent and Brackley revealed that the
Spooks
writing team had devised "countless" possible endings.
"Some of them survived for weeks, and we could still quote them by heart," they said. "Very early on, we talked about Harry detonating a nuclear bomb in Siberia. There was a lot of blinking round the table when we pitched that one."
The pair also suggested that it would be impossible to satisfy all
Spooks
fans.
"We can't please everyone, nor should we try to," they insisted. "We can only try to create an ending that is faithful to the spirit of the show, the characters, and reflects the ten years of great drama."
The
final series of Spooks
begins this Sunday at 9pm on BBC One.
> Spooks: Why we're sad to see it end
Watch a trailer for the new series of
Spooks
below: