Oh goodness. It's good to have them back, right? It's easy to forget just how wonderful
Misfits
is - writing, acting, direction, everything - until it's back on your screen in a massive swirl of marvellousness. Hurrah!
This episode had more of a challenge than most series premieres - not only did it have to introduce a new character (Rudy, played by the marvellous Joe Gilgun), but writer Howard Overman had set himself a challenge to reset the show by giving our characters new powers.
But if you doubted whether Overman could do it, I hope you're kicking yourself now. Of course Robert Sheehan was a massive part of the show, and we all love him. But Gilgun looks like a mighty fine replacement, and the series started on a high. Have faith.
What happened, though? Well, we're straight into meeting Rudy - he's hoping to change his ability and goes to see "cool mysterious power guy" Seth. But as he sits in the waiting room, Seth's too busy poring over a photograph. He's distracted when he hears fighting noises coming from the waiting room, but when he goes to check it out, Rudy's disappeared.
In fact, Rudy's being chased (or chasing someone) across the estate and ends up confronting his assailant on the top of a roof. Except... it's him! Yes, there appear to be two Rudys. Talk about a challenge for Gilgun - he has to play two very different characters, and they
are
very different. Noticeably so. But still similar enough to credibly belong to the same person, if that makes sense. Yes, Gilgun's emotional side can manifest itself as a physical being. If you think that sounds bizarre, try watching it. Utterly odd.
It gets even weirder when they start grappling on the roof - all the time emotional-Rudy reminding real-Rudy of embarrassing moments from his past - and end up rolling off the top. Luckily, there's a ledge just below. "That could have gone horribly wrong, that," Rudy brilliantly deadpans - and then emotional-Rudy shoots back into his body. Weird? Yes. Twisted? Yes. Classic
Misfits
? Absolutely.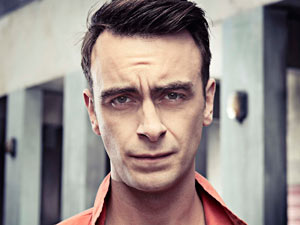 Then we follow Rudy back to the well-loved community centre, where fabulous worst-probation-worker-ever Shaun (the excellent Craig Parkinson) is stealing money from a dog-shaped charity box to use in the vending machine. He's supremely uninterested in Rudy, but sends him off to do some litter-picking with two very unimpressed young women (one of them gets called Charlie eventually, but I'm not sure of the other's name, so let's go by Blonde and Brunette).
But it's not all Rudy, of course. Along the way we discover that Simon's got the power to see into the future (and therefore avoid terrifying falls), while Kelly is less than impressed with her new power - she's a rocket scientist, and no-one believes that she drew any of the plans herself. This was just pure comedy, and a great laugh. I bet it comes in useful in the future, too.
Then it's time for our four favourites to meet Rudy - he brings Blonde and Brunette into Curtis's bar for a drink. Alisha immediately tries to hide, and rushes off with Simon and Kelly quickly, so we know something's up. But Rudy's preoccupied with trying to hit on Brunette, who's having none of it (for some reason, being marked as a nine out of ten doesn't do it for her).
Unfortunately, emotional-Rudy feels like making his presence felt and Rudy has to rush to the bathroom, groaning. When emo-Rudy appears, he begins to go on and on about how Rudy will never get with Brunette, speaking out loud all of his insecurities. Rudy ignores him and heads back to the bar, while emo-Rudy goes outside.
Emo-Rudy finds Blonde, who's having a cigarette, and discovers that she's on community service because her boyfriend was stopped by the police and put his drugs into her bag
- she didn't have time to do anything. As they chat, Blonde falls for emo-Rudy a little bit - but of course, she then does her make-up and walks in on Rudy locking lips with Brunette in the bar.
Ooh, she's not too pleased with that - and she's got the power to do something about it, too. In the terrifying way that
Misfits
can do so well, the world shakes around her then freezes. Basically, Blonde can stop time. She walks through the bar, smashes a bottle over Rudy's head, places it in Curtis's hand, and walks out.
When the spell lifts, Rudy's not too happy about being bottled by Curtis (he mainly frets "Am I still gorgeous?") Curtis, of course, immediately informs the other Misfits. Alisha's all for staying out of it, but as Curtis and Simon point out - that's never going to work.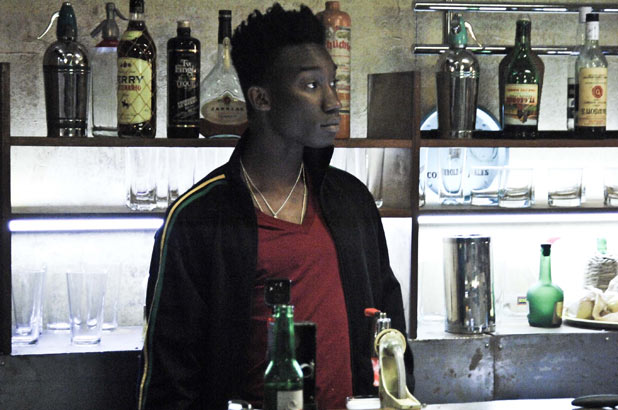 Well, seeing someone getting bottled is apparently a turn-on, because Brunette sleeps with Rudy. But the next morning, emo-Rudy makes another appearance - Rudy had unprotected anal sex with her! She might have HIV! Rudy's feeling ridiculously pleased with himself (hence starting a long-running line of jokes about anal sex, and how much Brunette loves it. I don't know how Overman does it, but this somehow never verges on the tacky, when it so, so easily could.)
Anyway, emo-Rudy has had enough and wants to show himself to Brunette, causing a squabble in the bathroom. This was a brilliant sequence, and Brunette's face when she walks in and finds Rudy tangled in the shower curtain, impaled in the shoulder with a pair of scissors, is just superb.
Later, Rudy's back at community service when Kelly, Simon and Curtis see him. But Blonde's back and still feeling scorned - she ends up freezing time and pushing him down the steps. The trio go to his aid (at least, they stand over him and stare), but Blonde doesn't like that, either. She ends up smashing a car window and putting the brick in Kelly's hand. Obviously, that gets the police after them so they split.
Curtis, though, is getting cornered - but when the police officer catches up with him, he's not there. Instead, he's turned into a woman! How Overman comes up with these bizarre powers is beyond me, but it's a fun one. And when he catches up with the others to explain he used his power, Rudy reveals that he is "Kool and the Gang" and knows all about those abilities.
For some reason, they decide it would be a good idea to take him back to Simon's lair, and he's all cocky at first. But then Rudy spots that Vegas photo of Simon and Alisha, and then Alisha walks in, straight out of the shower. It's all very awkward as Alisha burbles that they went to college together, and Rudy starts groaning away (emo-Rudy's keen to make an appearance). He rushes out of the lair and goes home, where emo-Rudy takes out a box and finds a photo of Alisha...
One thing everyone agrees on, though, is that Blonde can't be allowed to get away with this nonsense. Kelly goes to see Seth to see if he can help by taking away her power, but Seth's remarkably uninterested (though when Kelly says she's not laughing, he says he's never seen her smile - a surprising emotional moment). Anyway, Kelly's not impressed. Oh - and what's with her rubbish power?
Rudy's got a plan, too. He plants the charity dog in Blonde's locker and then points Shaun towards it. Now that charity dog is Shaun's vending machine pot, so he's not too happy it was nicked - in fact, he calls the police. Rudy's only mistake is to think that it's a good idea to gloat when Blonde turns up. Clearly, he's not the sharpest tool in the box. So when Blonde gets put in the police car, she simply freezes time and walks off. Easy.
Emo-Rudy takes the opportunity to urge Rudy to confront Alisha - he thinks about her all the time! - but Rudy decides instead to take Brunette to the bar and get down and dirty. That would be fine, but when Alisha walks in, he can't stop emo-Rudy from making an appearance. Naturally, this kind of terrifies the others.
Rudy desperately tries to leave, but emo-Rudy's going to say his piece - Alisha took his virginity and then ignored him, even though he'd fancied her for two years. BAD ALISHA. Emo-Rudy was so "little schoolboy" here, making it fun to watch even though it was all really sad - especially when emo-Rudy reveals he tried to kill himself. Alisha refuses to take responsibility and storms out, followed by Simon. We do then get a really cute scene between the couple, when Simon reassures her that he still loves her. Adorable.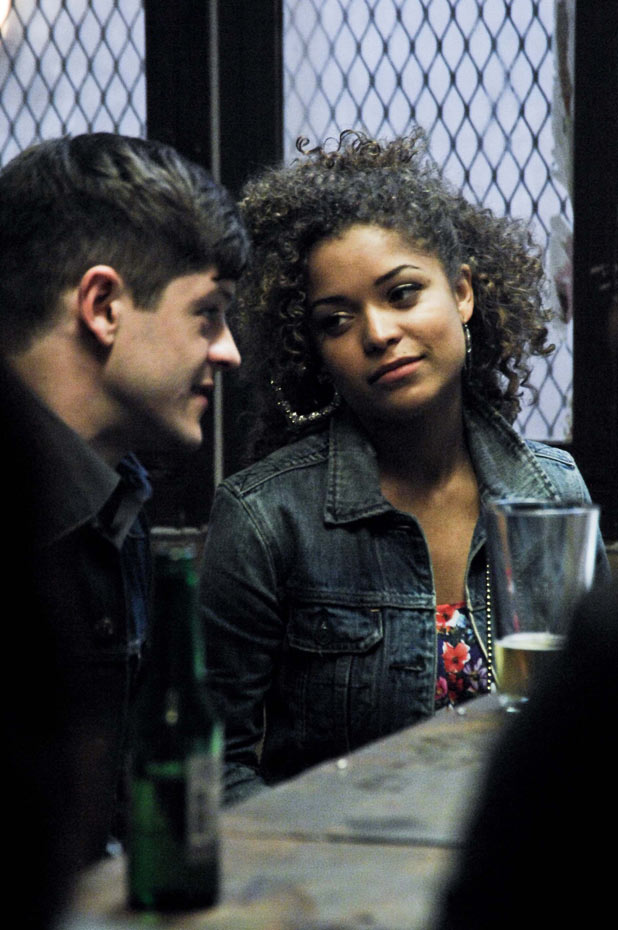 It's more heartbreaking with Rudy, who's had enough of emo-Rudy for the time being. In fact, he suggests that they should stay split - he's fine with walking around pretending to be happy and doesn't need to be reminded about the negative stuff in his life. Seeing emo-Rudy being dropped is so sad - when Rudy returns to bed, he sits on the sofa crying. And it
hurts
.
The next day, as emo-Rudy packs up his stuff, Rudy meets Brunette at the community centre for a bit of a snog - but Blonde's there! And she's doing her freezy time thing! This is when we see just how evil Blonde is - she's forced Rudy to stab Brunette. He's devastated, insisting that it wasn't him. Luckily, Alisha couldn't sleep and she's come to the centre...
Unfortunately, Blonde just freezes time again, and balances Alisha and Rudy precariously on chairs - they're about to hang. When Rudy says: "This isn't good", it's a bit of an understatement. And we find out Alisha's power - she can stand in other people's shoes and see what they see. In this case, she sees Blonde writing their suicide note. Gulp.
When Blonde shows up, she's feeling all smug and pleased with herself. I mean, Rudy can bluff for a while, but not forever... So eventually he just kicks her and she falls onto the floor, cracking her head, dying and bleeding. Success! Except now Rudy's hanging.
Alisha begs him to wrap his legs around her - he does so, and in desperation says she broke his heart. Alisha admits that she does remember him, and she was a "bitch", but she's changed now. She hates herself for what she did and apologises. That's good enough for Rudy - who lets go and hangs.
Luckily, emo-Rudy hasn't left yet and turns up just in time to save Rudy. Thank God. See how attached we've grown to him already? That hanging scene was devastating. Anyway, there are two more bodies for the gang to deal with, so they head straight off to bury them. Normal, right? This was fun for fans - it's basically a trope now.
The only problem is that driving back, they get pulled over by the police - and Rudy admits that he nicked the car. Oops. But this is
very
good for us, as the Misfits are finally back in their community service outfits (and getting mocked by their probation worker). All's well in the world!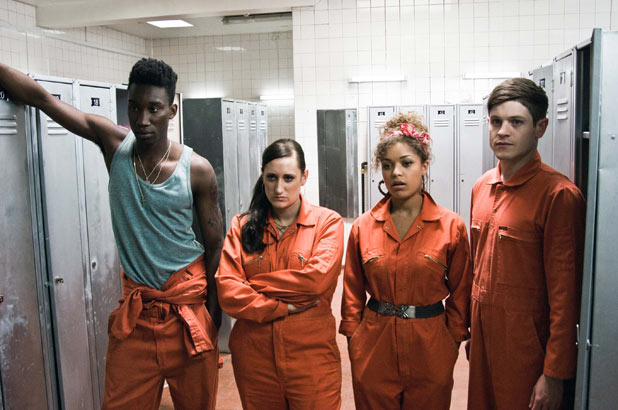 And then we get a hint of what's to come with our five stars working together. The chemistry between this group is insane - Rudy's going to fit in just fine. This was another stellar episode of
Misfits
- not only did it deal with the Robert Sheehan exit and the new powers, but it also managed to keep up the ridiculously high standard it's set itself. We can't wait to see what's next.
Miscellaneous Misfits
Does anyone else just break into an uncontrollable grin when the theme music kicks in? (If you're not sure what it is, we're here to help - it's 'Echoes' by The Rapture. Thanks, The Rapture.)

I wish I could list every single one of Rudy's one-liners, but it would take forever. Leave your nominations for the best below.

Special mention, though, has to go to Kelly's fabulous: "What. The f**k. Is brunch." We'd all seen it on the trailers, but Lauren Socha makes me laugh with it every single time.

See also: "We were brunching and then it just kicked off."

SETH MYSTERY #1: What is the meaning of that photograph he was looking at?

SETH MYSTERY #2: What power is he after?

The show has ended up using about a gazillion more special effects this season. But it still manages to retain its standard, gritty kind of feel. I have no idea how they pull this off, but it's super-impressive.

It was good to see Simon actually practising his parkour - hopefully we'll see his Superhoodie skills slowly develop. And Iwan Rheon's perfected the art of the smoulder, right?

I cannot overemphasise how much I LOVE that Kelly is a rocket scientist. GENIUS.

I haven't seen one of those dog charity boxes for years.

It might have been fleeting, but it was nice to have a little mention of Nathan in there.

I could go on and on and on about how brilliant Joe Gilgun was in this episode. He had big shoes to fill, and he did it wonderfully. I loved Rudy's little moments - the nervous energy as he waits for Seth, the preening he does when he's chatting to Brunette, the camp version of emotional-Seth in the bathroom ("urgh!")

What the hell did Rudy do to his neighbour's cat?

"Cockmonster" and "Pussymeister". Surprisingly cute pet names?

I love that Curtis took the 'turning-into-a-woman' power because it was the only one left.

Brunette is made of pretty strong stuff, right? She's just seen a second Rudy emerge from the main Rudy, and yet she still takes him home and spends the night. Blimey.

"They'll let you off with a warning, love." "Honestly, I thought they'd let you off with a warning."

"You're very starey."
What did you think of the episode? Leave your comments below!