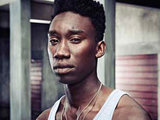 So did everyone enjoy the opening episode of
Misfits
then? Pretty special, right? Well luckily we've got a brand new instalment coming up on Sunday, but what's going on?
The episode is all focused on Curtis and his bizarre turning-into-a-woman power, but if you fancy some more hints read on for our ten teasers about what's coming up!
1.
Ouch. Alisha and Curtis have a really awkward "we used to date" conversation (Curtis might regret starting it).
2.
Rudy gets a rather annoying tickle in his throat.
3.
Simon has a fantastic "confused" face.
4.
Curtis uses his ability to improve some certain, um, talents.
5.
Kelly gets the wrong end of the stick about something, which causes a bit of bother.
6.
"No-one needs to see that."
7.
Probation worker Shaun's got a bit of a crush. Shudder.
8.
He's not the only one with a crush, either. One of the Misfits is even resorting to a bit of stalking.
9.
"For a bloke, he's got a lovely *****."
10.
Not all villains need to have superpowers.
Misfits continues on Sunday at 10pm on E4.