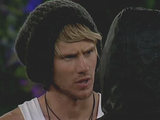 Housemates were left locked in the task room today after John James sought a private chat with Big Brother.
As the rest of the house is being cleared up because of water damage, the hut has been used as a temporary Diary Room today. Therefore when Josie told the Australian that his behaviour had made her consider their relationship, the housemates were called into the task room so John James could have a private chat with Big Brother.
However, before Josie left the garden, she opened the hut door and said to John James: "Have a little rant, slag me right off but the fact of the matter is you switched on me. You think the public want that, don't you, John? So have your little rant and I'll go to the task room."
As the rest of the housemates gathered in their temporary bedroom, JJ stated that he thought John James could leave as he appeared to be getting ready to go somewhere and was upset with Josie's accusation that he sided with Sam because he thinks the public like him.
"He'll take it hard," Sam said.
"The reason why I'm hurt is he's totally gone in the garden and switched on me," Josie said to Sam. "Having a go at me saying I'm bullying you, which we both know is a load of crap.
"He never switched on you. So I'm allowed to be hurt after my friend has switched on me 'cos you've manipulated him."
After Sam fell asleep, Corin reassured Josie that she had not let herself down and that if John James had witnessed Josie's argument with Sam firsthand he would not have accused her of ganging up on him.
"He won't go, I'll be shocked," Corin added. "And if he decided to that would be his choice, you're not out of order, don't think for a minute that you are."
Considering her treatment towards Sam, Josie replied: "Thing is, we called him no names, nothing - he was the one calling you orange face. I bet John feels like a right idiot."
As Josie commented that she didn't want to "be like that" in the house, Corin reiterated that Josie hadn't embarrassed herself at all.
Speaking about her relationship with John James, Josie added: "Just makes you realise it's not what you thought it was. I wish I never got involved with anybody."
However, Corin insisted that she felt that way because she was angry and that she and John James would work out their differences. Mario also commented to Josie, "you know how much he likes you".
"He went out there and totally switched on me 'cos Sam Pepper played the victim act," Josie continued.
"He never switched on Sam Pepper when he said it was illegal for me to wear a bikini, why do you think that is? He thinks the viewers want what Sam Pepper's giving us."
She added: "I know he's in [the hut] now, 'I wanna leave, I wanna leave, I wanna leave'."