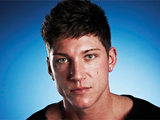 Jay Mckray
and Mark Henderson have been bickering in the Big Brother house over whether beer should go on the shopping list.
Mark objected to Jay's suggestion that they ditch beer from their shopping budget because of the amount of fights that have occurred after the housemates have been drinking.
"There's just f**king hell on every time everyone has a drink," complained Jay.
Watch Jay and Mark bickering about beer:
Mark argued: "There's got to be beer on the shopping list, people are going to want beer. Last night can't have been anything to do with people being drunk. People can't have got drunk last night."
A frustrated Jay responded: "I'm stepping down from dad... I'm just going to get a bad name for myself. If people want to argue they can get on with it."
Henderson eventually relented, but suggested that they go for "luxury cans" of beer from now on.
> Big Brother: Rebeckah Vaughan tipped for second eviction
Last night, Aaron fumed when he discovered that Jay had been keeping a secret stash of beer away from all the housemates
Watch Aaron's response when he discovers the truth of Jay's secret stash: