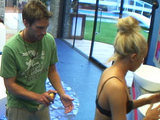 Big Brother's
Aaron Allard-Morgan
and Maisy James have made up following the tension surrounding their kiss.
Fellow housemates Tom O'Connell and Faye Palmer, who had feelings for Aaron, were both upset with the pair's bedroom antics.
Explaining what irritated her, Maisy told Aaron: "I only got upset because I walked into a room of Harry making a joke like he usually does. And then they were like, 'Oh yeah, we're hearing noises!' Anton is supposed to be one of my closest friends here.
"Then Jay was like, 'I asked Aaron if you two had sex and he just put a cover over his face.
That
was why I got annoyed with you."
Aaron had insisted: "I defended you to the hilt. I said, 'Have a bit of respect for Maisie? She's supposed to be your friend as well', and nothing happened'."
> Big Brother Aaron threatens to walk following Maisy kiss fallout
> Big Brother Aaron and Maisy kiss - video
Later Maisy said that she was "fine" with Aaron, adding: "I think it's cool, I just think you really need to sort it out with [Tom and Faye] over me.
"I just got upset, not particularly over you, but over everybody else. Everybody else were just laughing and being stupid. They were saying stuff like it was really true."
Watch footage of Aaron and Maisy clearing the air below: