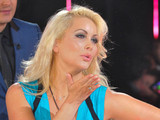 Big Brother 2012 this week staged its first eviction of the series and, at the risk of being unpopular, we here at
Digital Spy
are of the opinion that already the public have messed up.
In just three days Victoria Eisermann had managed to make an enemy out of virtually every one of her housmates by throwing strops about salads and expressing "silly viewpoints". She turned the Elstree compound into a big bubbling ball of tension in a matter of hours - just imagine what chaos she would have caused given a mere seven more days.
But alas, the 41-year-old former glamour model was
kicked out
on Friday (June 8) over buff-but-boring Irishman Conor McIntyre and Lydia Louisa, who has yet to prove herself as anything more than the fiancée of the brother of the woman from Steps.
The real sad part is that Victoria's eviction is far from the only time that Big Brother viewers have made questionable decisions and kept lacklustre housemates in over people whose big characters have given them even bigger targets on their backs. Remember these iffy results...?
Big Brother 4: Anouska evicted in week one
Most of the time, the first person evicted from Big Brother is doomed to obscurity, forgotten about long before the series comes to an end - no matter how much potential they showed during their brief time in the house. However, in the case of Anouska, viewers who were quick to punish the 21-year-old for being a bit loud and promiscuous soon realised that her brand of flirty fun was exactly what the notoriously boring series needed. Calls were made for her to be brought back, but Anouska played us at our own game - shunning us to get her baps out in Big Brother Australia instead.
Watch a promo for Anouska's BB Australia arrival below:
Big Brother 7: Nikki evicted over ten other housemates
Ah, Nikki Grahame. The Queen of tantrums has firmly cemented her place as one of Big Brother's greatest housemates, finishing runner-up to Brian Dowling when competing against the cream of the BB crop in Channel 4's 'Ultimate' series. Yet in week eight of the 2006 edition, you lot decided to axe her over
ten
other housemates, when only about two or three could realistically compete with her in terms of entertainment value. Maybe her screaming and whining had started to get a bit stale by then, but the fact that three weeks later BB risked facing the wrath of bill payers by sticking her back in speaks volumes about her contribution to the series.
Big Brother 4: Jon Tickle and Federico evicted over Cameron
You'd have thought the viewers of Big Brother 4 would have learnt their lesson after Anouska, but a mere three weeks later the public were responsible for possibly the most ridiculous result in BB history when they evicted both Federico and Jon, the biggest/only remaining characters in the house, over virginal goody-goody Cameron in a double eviction. Luckily Federico was given the chance to make a brief Big Brother return six years later, where he caused trouble again by blurting out during a task that Michael Jackson had died.
Big Brother 6: Science and Kemal evicted over Orlaith
We're still not entirely sure how this happened, but somehow morose model Orlaith McAllister managed to slay two of the most memorable housemates of the series back-to-back, despite having pretty much no fanbase. We can maybe forgive viewers for wanting to get rid of the camp and cruel Kemal, but Science was like the annoying little brother of the house that we couldn't help but love. Worst of all, Orlaith quit just 24 hours after seeing off Kemal (a whopping 13 days before the whole show ended).
Watch Orlaith and Science clash below:
Big Brother 10: Noirin evicted over Marcus
Admittedly this is the most contentious of our Big Brother quibbles, but we still think Noirin should have been spared over Wolverine knock-off Marcus in series 10. Both were great housemates, but Noirin seemed to be at the epicentre of most major events in the house. Who can forget rabbit-gate, or 'God, isn't Sree creepy-gate'. The most annoying part about her eviction though is that it came just two days after Big Brother pulled the genius move of putting her ex-boyfriend Isaac in the house, turning her budding romance with Siavash into an awkward love triangle. Predictably he quit just two hours after her eviction, turning a potentially explosive set-up into a complete train wreck. Cheers viewers...
Do you agree with these controversial Big Brother results? What vote got you most riled up? Leave your comments below!