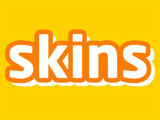 It's almost hard to remember how truly groundbreaking and shocking
Skins
was when it started back in 2007. Who can remember the horror of parents who suddenly had a glimpse into a teenage life of sex, drugs and cringeworthy moments?
Well, it's fair to say we've become a bit desensitised to
Skins
now - it's like an old friend (albeit one with a spliff dangling from their fingers and shoplifted booze stashed in their oh-so-fashionable rucksack).
But if you take a step back and actually look at the show, you realise just how great it really is. Sure, a lot of the original fans - teens at the time - have probably outgrown it and moved on to pastures new (considering we were university students who shouldn't-really-have-been-watching when the
first
series was on, it's fair to say we stuck around).
Still, that's a shame, really. Guest star Chris Addison said recently that
Skins isn't for adults, it's for teenagers
- and although we hate to disagree with Professor Blood (mainly because he's a little frightening), we're here to say the opposite. Tune in to
Skins
, and you might be surprised. But why...?
It's a show that takes risks
No-one has ever accused
Skins
of being tame. Whether it's masturbation, drugs, shoplifting, mental health issues or even problems with fertility,
Skins
has been there and had a good old exploration.
One of the joyous things about
Skins
- and one of the reasons it didn't quite work when it was adapted Stateside - is that it doesn't seem to have any boundaries. In fact, it positively revels in seeing how far things can be pushed - in picking up taboos and jumping up and down on them in heavy-duty boots.
The strangest bit about that, though, is it seems to constantly get away with it. Where's Ofcom? Where's
The Daily Mail
? Believe us, we're not complaining - it's heartening to see a place on television where teens and young people can let loose a little bit (and examine difficult issues while they're at it).
But
Skins
doesn't stop there - instead, it's constantly looking for ways to take risks with its storytelling. Sometimes, these don't work - Freddie's death wasn't a high point for fans, for instance. But the point is that it tries new things - who could forget that bizarre 'open day' episode in series two, for example, or the episode in which Effy came to regret the magic mushrooms?
It's always better to take a leap instead of sitting in a boring, beige comfort zone, and that's something in which
Skins
excels. It's wonderful, risk-taking creativity.
It genuinely captures that teenage feeling
One of the things often said about
Skins
is that it's heightened, an unrealistic representation of teenage life. Firstly - well, obviously, it's a television programme. Secondly, we're sure no-one who's ever said that was just disappointed in their adolescent years...
Seriously, though, no-one is suggesting that the stuff that goes on in
Skins
is real life. Maybe if you put together the lives of teenagers from three schools, you might be able to cobble something similar.
But people who complain about this are missing the point. What
Skins
does reflect is that feeling of being a teenager. Not only does it have a range of different characters - from, for lack of better terms, the 'geeks' to the 'popular kids' - but it also captures some indescribable sense of the world young people begin to get.
We all remember it - that weird mix of freedom and containment.
Skins
embodies that wonderful sense of liberty (hence the wild parties) and yet also the downtimes - the homework, the boredom, the devastation at the slightest setback.
Teenagers who watch
Skins
will understand it utterly, even if they don't relate to a single character. And adults who watch it will feel immediately nostalgic (although whether you can handle this is another matter - some people suggest watching just makes them feel old).
It risks everything to nurture brand new talent
The risks
Skins
takes don't just take place on screen. One of its defining features is taking almost entirely unknown young people and giving them their first acting jobs.
This is a wonderful thing to do, and
Skins
has emerged as a training ground for some magnificent young stars. E4 and the producers are brave enough to see where they can take it; not to panic if they stumble; to allow them to figure out the art of acting.
And it pays off, too - not only does
Skins
feel more realistic for having genuine teenagers in the role (and people we generally haven't seen before), but some real stars have emerged from the process.
Where would
Slumdog Millionaire
be without Dev Patel, for example? Kaya Scodelario's made a real name for herself lately, Hannah Murray's going to be in season two of
Game of Thrones
and others, such as Jack O'Connell, Lily Loveless, Daniel Kaluuya and Joe Dempsie, have been keeping themselves very busy indeed.
But it's not just the cast members who are young -
Skins
goes the whole way and employs brand new writers, just dipping their toes into the scriptwriting pool for the first time. This is a huge gamble - you can have the best actors in the world, but if the scripts aren't good, you'll go nowhere.
Instead,
Skins
gets the balance right - and thereby gives us a lot more insight into the world of teenagers in the here and now. Can you imagine how cringeworthy and right-on
Skins
could be if it was written entirely by 45-year-olds?
There are amazing plot twists... but also beautiful character moments
Don't get us wrong -
Skins
knows how to pull a plot twist. We've had cliffhangers, deaths, near-marriages and all sorts. But one of the things
Skins
does best is hang out with its characters and have fun with them.
It's right there in the episode format, with each instalment focusing on a particular person (though the episodes which combine this with an ensemble feel are the best). This isn't a show which
relies
on gasps - instead, it's quite happy to slow things down when necessary.
There are so many episodes or scenes where nothing really happens, but it's in these that we find out the most about the characters. For a show so reliant on a young audience - a supposedly attention-deficit generation - this is a tough move to take, but it works. It doesn't always have to be about the action. Sometimes it's just about getting to know them.
It's a pop culture addict's dream
We've already mentioned that
Skins
nurtures unknown talent, but this isn't just confined to the stars and behind-the-scenes staff. Instead,
Skins
is one of those shows that recognises the absolute value of popular culture.
Watch an episode, and it'll instantly help you feel cool (or hopelessly inadequate, but we like to focus on the 'cool' bit). Whether it's soundtracking the show with up-and-coming music or dressing its stars in wonderful fashion,
Skins
doesn't just highlight what's cool, but what could be cool in future.
In other words...
It's hard not to fall in love with
Skins
, and it's not surprising it's garnered a loyal, cult following dedicated to the show. Will the sixth series live up to its past? We'll have to wait and see. And will a
fourth
generation end up gracing our screens? That's a question for the future.
What we do know, though, is that nothing will be able to stop us from settling down on Monday at 10pm to flick on E4 and watch the brand new series (or, if we can't wait, get a sneak preview on 4OD - you can watch episode one now). Will you be tuning in?
Are you a fan of Skins? Are you excited about the new series? Sound off below!