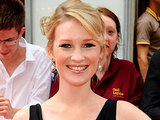 Gavin & Stacey
's
Joanna Page
returns to our screens this week, but with a slight difference - she'll be playing a cat. Nick Jr's
Poppy Cat
to be exact. "My husband always thought I'd be good at voicing animated characters or forest creatures because my voice is so Welsh and so high," she laughed. "I was a big fan of the books, so I was honoured to be asked."
Tube Talk
caught up with Page to quiz her on what has her glued to the box and what has her screaming for the remote.
Favourite children's TV show...
"Oooh, I would have to say
Bagpuss
. It was my favourite show growing up and even now the theme tune makes me a feel a little bit magical and takes me back to being a child. Yes,
Bagpuss
.... and
Fingermouse
as well."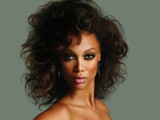 Guilty pleasure...
"My guilty pleasure would be all of the
Top Models
. America's, Canada's, Australia's, Britain's - I just love
Top Model
. Whenever I am on my own - because my husband talks all the way through it - I just put it on and watch loads, loads and loads of
Top Model
. Don't you love the bit where they do the transformations? Episode two or three is when they usually do it and there's always one girl who has to have a skinhead and cries like mad. I love it. And every show from around the world, they are all the same and the girls are exactly the same. I can't stop watching it."
Desert island boxset...
"I think it would have to be.... well it would have been
24
. I'm currently on season eight of that and I'm totally addicted. But I'm also just starting to watch
Mad Men
and in two days I've done five episodes and it's absolutely fantastic. So either
24
or
Mad Men
. Probably
Mad Men
because I've only just started it."
TV hero...
"I would have to say Kiefer Sutherland as Jack Bauer from
24
. And Tony Almeida as well. A mixture of the two would be great as I think both of them are absolutely fantastic. Both of them could save me any day."
TV hell....
"Oh, antiques programmes. I'm so bored of all the antiques shows. Things like
The Real Deal
, you know what I mean, they are all basically the same show.... and there's about 20 of them. Anything to do with antiques, auctions and whatever you have got to discover in the attic. All that kind of stuff. I can't bear it."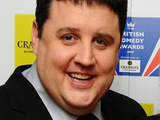 Comedy star...
"I love Peter Kay. He makes me laugh all the time. I've seen all of his stuff, but I was flicking through Sky the other day and found his Comedy Store stuff from years and years ago. I'd seen it before, but you can watch his stuff over and over again. He just makes me laugh."
Reality TV star of the future...
"No, definitely not. I did
Adrenaline Junkie
with Jack Osbourne, but I think that was different. It was all bungee jumping and showing myself off and was fab fun. But I wouldn't want to do any of the other ones."
Simon Cowell - hero or villain?
"I think he's brilliant. I think he's great and if nothing else, he talks sense. I think even when he does the panto baddie stuff, he talks a lot of sense and it's always true. Everybody hangs on his every word, trusts everything that he says and I think he's a good bloke."
Most famous celeb in your phonebook?
"Rob Brydon maybe. I don't have a lot of celebrity friends. Probably Rob and the rest of the
Gavin & Stacey
cast."
Oscar-winning movie or five more series of Gavin & Stacey?
"I don't know because both would be fun. Oh probably an Oscar-winning movie. But mind you, I do love
Gavin & Stacey
, so I don't know. If I can have a bit of both, I'd take it please."
Poppy Cat airs weekdays at 10am on Nick Jr