Suzanne: "Just wondered if you know if Disney were planning to show High School Musical again in the near future?"
Neil: It's on all the time - tonight (Friday), for example, with a special sing-along version at 6pm and 9.30pm. I'll be giving it a go.
David Archer: "Hi Neil. Really looking forward to the new BBC series of Robin Hood but is it true there won't be a Friar Tuck in the series?! Sacrilege!"
Neil: It's true but Much does take more of a front seat. In case you had forgotten, Robin Hood begins tomorrow night (Saturday) on BBC One - and head down to the spoiler spot for some more gentle teasing.
Will: "Hey Neil, love the column! I saw Ricky Tomlinson on The Paul O'Grady show this past week and he mentioned that the new RF special is airing in October - do you have an exact date/time?"
Neil: It's set for October 29 - most likely at 9pm.
Carl: "Hey Neil... Is there any chance we could get a list of premiere dates and their channels on here? I usually make a note of what you talk about in TubeTalk, but a special page here would be alot better."
Neil: OK, I'll give you that if you promise to stop writing "a lot" as one word. And, assuming you do the same, "as well" as well.
Andrew: "once upon a time, sky channel and then sky one were really indeed "british's number one". They were showing lots of brand new shows light year ahead of terrestrial channels. then at some point they have lost the plot because they started this ballet of endless reruns which degenerated into having 3 channels dedicated 90% of the time to showinf endless reruns. Why did they let sky one degenerate this way ? How come Mr Wolf is not interested at all into resurrecting sky one ? Are all these reruns and reality "things" really that successfull ?? Why sky one doesnt decide to produce and to run just brand new dramas, tv series and u name it ?"
Neil: As regular readers will know, I'm quite a fan of Mr Woolfe and do actually believe he's starting to get the channel into shape. The problem with Sky One has been that for too long, it has lacked direction - attempting to be all things to all people but really serving no-one particularly well. What Woolfe is actually doing is starting to bring in the noisy kind of shows that appeal to mass audiences - yes, a lot of celebrity reality stuff but there are some quality drama pieces in the pipeline (Hogfather and The Prisoner, for example). Some shows take a while to develop so it's not a fully representative schedule just yet but in the short term there are some neat little tricks (four hours of The Simpsons in the afternoon) being deployed to lift the audience share. Or at least, try and halt the decline.

Two different competitions in this week's swag spot - each with their own merits but equal in calibre.
First up we have three copies of
Lost
season two, part two on DVD (yes, the obsession with two-part DVD sets continues).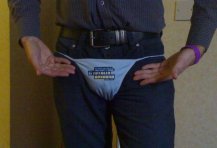 To enter for free, click
here
.
Also up for grabs this week is a
Totally Boyband
-branded thong, courtesy of MTV and paraded here by one of our
very
sexy models. To be in with a chance of winning drop me an email to the usual place explaining why you deserve it. The most needy person gets the honours.
Shaun: "Hey, loving the work. Sharon Osbourne's chatshow I know is doing quite poorly, but how has it fared against Paul O'Grady? And will the show continue even though Sharon's X Factor work will be hotting up?"
Neil: The last time I checked O'Grady was slamming her around 3:1. She has two weeks left of the show left, so only one week of overlap with the X Factor live shows.
Sion: "I've just read that SpikeTV have chosen not to re-commission Blade for a second series, does this mean that Bravo will do the same with Blade as five have been going with the second season of Joey? Speaking of which, any new news regarding Joey season two on five?"
Neil: No, Blade will pop up in the new year. As far as Joey is concerned, repeats of season one form part of the Five US launch schedule - and it will only be a matter of time (few months, maybe) before the second season premieres.
Pete, Birmingham: "Just wondered, what upcoming shows either on terrestrial, or coming soon from the US would you recommend? It's probably a long list, or maybe not? Look forward to your advice."
Neil:
At this point I should remind everyone of
this neat little section
where I'm running down this year's new US fare. Very, very slowly.
Shaun Carmody: "Just like to say grate site for info thanks for this as I've enjoyed it. Can you tell me who has the new season of law and order. Or have I mist last one I seen was when Briscoe left .Then showed up in law and order trial by jury i think it was called but never got into that then I heard that the actor who plays Briscoe died .but my question do you no who and when the season that comes after Briscoe left will be on"
Neil: It's Sky One, from next year.
Stephanie: "Hi Neil, Loving the column as usual. I watched the first 2 episodes of In Justice i believe it was on UKTV GOLD (not sure) at 9pm on a Sunday night but last Sunday i went searching for it on my Planner and have checked for next week also and it seems to have disappeared. Can you please help me as I thought this show was brilliant"
Neil: The series is on pretty much every night, around midnight.
Mark: "Hi, Do you think the fact that the oc is starting in november instead of the start of the american season will help it avoid cancellation and do you know when the 4th season will be on e4? Also in the event of it being cancelled in the US will the remaining episodes be shown in the uk?"
Neil: Moving to a better slot will help it avoid cancellation - it's against both CSI and Grey's Anatomy. January is normally the expected landing time on E4 but it may be a month or two later this time. If it does get chopped prematurely - I suspect given its calibre they wouldn't just take it off the air, but instead maybe reduce the order - but if it is, then E4 would show any produced episodes not yet screened.
Neil Mandam: "Hi Neil,the start dates you've been giving out for the new series are greatly appreciated, so I wonder if you could confirm when the new series of Numb3rs is due to start. Cheers."
Neil: Not long to wait now - October 23 at 9pm.
Neil Postlethwaite: "Neil, Can you sort out Sky One. They appear to have canned the 4400 for a week, so they can show The Match. I was recording the New Series 3 to watch after the almost parallel Series 2 had finished as my Sky+ blew it away first time round. Both appear to be gone from the schedules for a week. Sky+'s greatest advantage over any other PVR is series links. With this week holiday, they fail or are missing."
Neil: Ouch - Sky One isn't popular this week, is it? But it's back this week.
Karen: "hi dennis"
Neil: Sorry, Dennis isn't in this week - can I take a message?
Emma Hill: "Any idea if Ugly Betty, The Class, The Nine and Day Break have been picked up in the UK? If so by who and when are they likely ta air"
Neil: Channel 4, Channel 4, Five and no-one. All will start to roll out from early next year.
bupesh: "Hi Neil, I have just read The New Adventures of Old Christine has been picked up for a full second season. Having heard good things about this show, is there a UK broadcaster ready to pick it up? Anything with Julia Louis-Dreyfus must be good!"
Neil: It will soon be gracing the schedules of UKTV Gold, you'll be pleased to hear. I only sat through the pilot and decided it really wasn't funny at all. Evidently CBS viewers disagree - but then they would.

As always, select the area to the right of each programme to read the text - but be warned that you may well be spoiled.
Vincent:
Ray Winstone returns on top form as Vincent is called upon to investigate the murder of a chambermaid. They have their man already - but his wife suspects he is doing time for someone else. She's right of course, and Vincent takes the case. But when someone else is killed, he doesn't count on waking up with the dead body and becoming the new prime suspect. Vincent returns to ITV1 on October 16
Robin Hood:
Watch out for some pretty well-aimed arrows in the first episode, as well as some marginally disturbing scenes when some kids are hanged - not that the two events are necessarily disconnected... Robin Hood airs Saturday nights on BBC One
Send your requests for shows to be featured in the Spoiler Spot to the usual place.
That's it for this week - worth the wait, I'm sure you'll agree. More next week!
Additional reporting by Kris Green