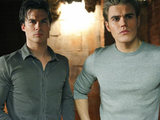 It's August and in lieu of any half-decent weather, what better way is there to spend your summer holidays off school/college/uni or that precious time off work watching some of the best new TV DVD releases.
There's a bumper haul of titles hitting the shelves and virtual shelves this month, among them the epic third season of
Vampire Diaries
, the scandalous fifth season of
Gossip Girl
and the shock-tacular sophomore run of
The Walking Dead
. Read on for more...
Castle - Season 3 (August 6)Starring:
Nathan Fillion, Stana Katic
Rated:
15
Format:
DVD
After a long wait, Nathan Fillion's slick crime writer finally returns to DVD with the Region 2 release of
Castle
's third season. These 24 episodes kick off with ol' Rick estranged from his cop buddies and framed for murder - yikes! It's all fairly standard stuff and fans of the show will know exactly what to expect by this point, but the chemistry between the charismatic Fillion and glamourous Katic still makes for terrific telly.
Twenty Twelve - Season 2 (August 6)Starring:
Hugh Bonneville, Olivia Colman, Jessica Hynes
Rated:
TBA
Format:
DVD
We're right in the thick of Olympics action here in London and so far there's been no cock-ups as disastrous as those depicted in this top BBC sitcom. Still, in the run-up to the Games,
Twenty Twelve
seemed right on the money. We're sure we heard 'Jubilympics' and some of the ridiculous terms coined by Hynes's PR woman extraordinaire Siobhan 'holy s**t' Sharpe uttered in real life, while flustered Deliverance Commission Head Ian Fletcher (Bonneville) getting shot by malfunctioning starting pistol didn't seem like too much of a stretch. Perhaps the worst thing about the arrival of the Games is that we'll never have any more
Twenty Twelve
, so why not grab this DVD and store it away with newspaper clippings and your cuddly Mandeville to show the grandkiddies?
Gossip Girl - Season 5 (August 13)Starring:
Leighton Meester, Blake Lively, Ed Westwick, Chace Crawford, Penn Badgley
Rated:
TBA
Format:
DVD and UV
Life on the Upper East Side has never been more insane than in
Gossip Girl
's penultimate season, which is finally yours to own this month. Among the 'OMG' moments are of course the 100th episode and its royal wedding, the game-changing romance between Blair (Meester) and Dan (Badgley), a spectacular guest appearance from Elizabeth Hurley as the man-eating (Nate-eating?) Diana Payne and the return of that
total bitch
Georgina Sparks (Michelle Trachtenberg). Enjoy the gossip, girls (and some boys). XOXO.
The Vampire Diaries - Season 3 (August 20)Starring:
Nina Dobrev, Ian Somerhalder, Paul Wesley, Joseph Morgan
Rated:
15
Format:
DVD, Blu-ray
The best show on The CW right now - sorry,
Supernatural
- returns with its best season yet. There's the usual goings-on with Delena and Stelena, but this latest run of episodes also introduced us to 'Ripper' Stefan, introduced the Original family and blew fans away with its combination of high drama and shock twists.
And how about that ending
? You can pick up this box-set from Warner Home Video this month to make the wait for season four go that little bit quicker...
The Walking Dead - Season 2 (August 27)Starring:
Andrew Lincoln, Sarah Wayne Callies, Jon Bernthal, Norman Reedus
Rated:
18
Format:
DVD, Blu-ray
After the a blistering debut season, the next 1e episodes of
The Walking Dead
had a lot to live up to and opinion is divided on whether or not the show pulled off the difficult task at hand. But in our opinion, the season two box-set available on both DVD and Blu-ray this month is definitely worth your hard-earned cash. The zombie drama's sophomore season is certainly different to its first - slower, less action-packed, more deliberate - but at its best is no less powerful. Tautly scripted with strong performances, this is sterling stuff.
ALSO RELEASED...August 6
:
Cheers
- Seasons 8, 9,
Big Love
- Complete HBO Season 5,
Garrow's Law
- Series 1 to 3,
Footballers' Wives
- The Complete Series 1-5 plus
Extra Time
Series 1 & 2,
August 13
:
Vexed
- Series 1,
Jersey Shore
- Season 4,
Blackout
- Series 1,
Vera
- Series 1 & 2,
The Midnight Beast
- Series 1,
Beaver Falls
- Series 1,
August 20
:
Wild At Heart
- Series 7,
The Big C
- Season 2,
Wilfred
- Season 1,
August 27
:
The Good Wife
- Season 3,
NCIS: Los Angeles
- Season 3,
Heartbeat
- The Complete Series 11,
Two Guys, A Girl and a Pizza Place
- Season 2.
Which TV DVDs will you be buying this month? Leave your comments below!