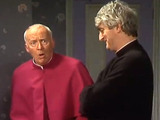 Father Ted
was voted Channel 4's funniest ever show when
Digital Spy
polled thousands of readers
last week. Those Craggy Island priests saw off the likes of
Peep Show
,
The IT Crowd
and even
The Inbetweeners
in our (thankfully metaphorical) fight for the coveted crown.
So don't blame us for having a strong hunch that the priests will come on top of the broadcaster's
official countdown
tomorrow night (August 25). And what better excuse is there to celebrate the mad sitcom's success by challenging ourselves to pick out its greatest episodes in this week's
Friday Fiver
...
'Entertaining Father Stone' - originally broadcast on April 28, 1995
Surely a story we can all relate to, everyone's been in a room with somebody and experienced an awkward silence. Multiply that by 1,000 and you're on the richter scale level of Father Stone, Ireland's most boring man. But tragically Father Stone is also a man who immensely enjoys his visits to the parochial house every summer. Ted and Dougal couldn't be singing from a more different hymn sheet however, as the following clip demonstrates...
Only the second episode broadcast, it's fair to say that
Father Ted
took until series two to properly find its feet. While the dazzling and frantic energy of
Ted
in its pomp is missing here, the sheer boldness of dedicating half an hour to Ireland's dullest priest - and succeed - is why 'Entertaining Father Stone' gets the nod.
'Entertaining Father Stone' is very much the love child of Arthur Mathews, who said last year that it was "possibly" his "favourite episode". Kudos can also be paid to legendary comedian Michael Redmond, who puts in a brilliantly understated performance as Father Paul Stone.
'Hell' - originally broadcast on March 8, 1996
Ted Crilly must've been relieved when he realised the true significance behind July 19, after he's called a "big gobs**te" by his comrade Dougal, teased with cocaine cakes by Mrs Doyle, and left shivering over the prospect of giving the filthy Jack Hackett "his bath". But his relief was short-lived, as he becomes subjected to a number of cruel scenarios. Worst of all, he's confined in Father Rudd's caravan with a certain Father Noel Furlong - aka Graham Norton. Arriving with his young posse, Furlong harasses poor Ted with renditions of 'Ebony and Ivory' and 'The Whole of the Moon', as well as ghost stories.
With only two "Places of Interest" to escape to, Ted and Dougal finally lose their minds and leave Kilkelly Caravan Park, only then to pick a fight with an angry man in the nip who lets their car tyres down, believing they've been spying on his wife. They later think they're saved by crazed 'I Shot JR' T-shirt-wearing Craggy Island resident Tom, but he puts the ultimate dampener on their holiday from hell by covering them in raw sewage.
One of
Graham Linehan
's favourites, you probably won't find an episode more inspired by said writer's favourite show
The Simpsons
. A number of cutaway gags - from the forgetfulness of Dougal to Ted getting in trouble for stumbling across a romancing couple - trickle through this immensely enjoyable half an hour which kicks off the second series. But the stand-out moment, and one of
Ted
's best moments of all time, comes while Ted and Dougal are bored in their caravan...
'Old Grey Whistle Theft' - originally broadcast on March 29, 1996
Have you ever wondered how bored the people of Craggy Island must be? This episode tells you, as the innocuous stealing of overbearing picnic owner Mr Benson's whistle sends fear and anger across the land's very core. Sergeant Hodgkins rather pointlessly manages to commission a police helicopter for the mission, and the
Craggy Island Advertiser
sensationally splashes the crime across its front page and prints an entire 'Whistles' supplement. One lady even goes as far as predicting whores on crack and "
Boyz n the Hood
"-style "drive-by shootings in the night".
Elsewhere, we learn that Father Jack knows the contents of an alcoholic beverage just by its sound, Dougal has sex dreams about Carol Vorderman, Mrs Doyle stands by the living room door all night every night in case a Father desires a cup of tea, and - most importantly of all - Ted's still a big liar, after he conjures up a wild tale involving a deaf girl and a horse when it looks like he's been framed for the whistle theft.
Meanwhile, the influence of Father 'Damo' Lennon - the eventual culprit - turns Dougal into a rebelling Britpop-obsessed, earring-sporting football hooligan, much to Ted's dismay. How different it could have been for Ted, had his distant pal Larry Duff not been travelling back to Ireland with an IRA gunrunner. As Linehan has confessed in the past, the story as a whole really shouldn't work, but it does - a must-watch.
'Are You Right There, Father Ted?' - originally broadcast on March 13, 1998
Back in episode one, a fame-hungry Ted could only direct a TV producer to a field as an interesting place to film. By series three, Dougal reveals there's been a China Town on Craggy Island all along. After innocently donning a lampshade and doing an impression of a Chinese person, word spreads that Ted's a racist. The situation worsens when, after inviting the offended Yin family around to apologise, he is made to look like Adolf Hitler by a "perfectly square bit of black dirt on the window".
Not all of the island's inhabitants are shocked by the news however, as bag-waving Mrs Carberry remonstrates in the parochial house front lawn: "Good for you father! Well someone had the guts to stand up to them at last - coming over here taking our jobs and our women, and acting like they own the fecking place," before getting taken over by her own shopping bags.
Watch an amateur re-enactment of the famous scene below:
Thanks to a good idea from Dougal (what?!), Ted somehow manages to convince the Chinese community that he's "NOT A RACIST" in an error-ridden slide show presentation. Among
Father Ted
's silliest stories, Mrs Doyle is reduced to falling off a roof and Father Jack confined to sleeping in a grandfather clock.
'Speed 3' - originally broadcast on March 27, 1998
Hairy babies, a mass on wheels and a bomb on a milk float are - directly or indirectly - the consequences of Pat Mustard, Ireland's most bent and womanising milkman. When Ted exposes him, the villainous Mustard plots revenge and very nearly blows Dougal Maguire to smithereens.
Not for the faint-hearted, Mustard teases Ted over the phone. But such celebrations were premature, as Ted's brick idea sends the float hurtling towards Mustard in the telephone box, and explodes.
Based loosely on the film franchise of the same name, 'Speed 3' is
Ted
par excellence, and an action thriller. Such were the terrifying obstacles in Dougal's way as he struggles to keep his vehicle floating above four miles per hour...
What are your all-time favourite Father Ted episodes? Should 'A Song For Europe' or 'The Mainland' have made the cut? Share your thoughts below!