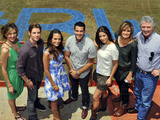 There's some top telly coming your way over the next seven days -
Doctor Who
continues on Saturday night, plus two shows make a long-awaited return -
The Thick of It
is back on the BBC after a three-year gap and
Dallas
is making a comeback after 21 years away!
Read on for the full details on what to watch this week - you'd be mad to miss any of the shows below...
Ross Kemp: Extreme World: Monday (September 3) at 9pm on Sky1
Soap star turned TV host Kemp returns to Sky with another intense and involving documentary series - this second run of
Extreme World
kicks off with Ross in Karachi, Pakistan, where political parties and criminal gangs alike indulge in torture, kidnap, extortion and murder.
Kemp promises that
Extreme World
won't shy away from the truth and will delve far deeper into the dark side of life than other shows of its ilk. "There'll be people from other channels decrying me... but they don't get the access that we do," the star told
Digital Spy
.
Watch the trailer for
Extreme World
series two below:
Dallas: Wednesday (September 5) at 9pm on Channel 5
It's back - the classic US soap returns with a fresh lick of paint and plenty more besides! Over 20 years since they were a regular fixture on our screens, JR (Larry Hagman), Bobby (Patrick Duffy) and Sue Ellen (Linda Gray) return as the battle over Southfork rages on...
There's new faces too - while the old stars certainly don't get short shrift, much of the revamped
Dallas
focuses on the next generation of Ewings and, in particular, the rivalry between JR's offspring John Ross (Josh Henderson) - a real chip off the old block - and Bobby's good-natured son Christopher (Jesse Metcalfe). Glossy, sexy and just the right side of ludicrous, this new take on an old favourite is terrific fun.
Watch a trailer for
Dallas
below:
Doctor Who: Saturday (September 8) at 7.35pm on BBC One
It's time for another blockbuster episode as the nation's favourite sci-fi returns, this time with some dinosaurs... on a spaceship! It's a big, broad, fun affair as Rory's dad (Mark Williams) joins the regular TARDIS crew for an out-of-this-world adventure...
Rupert Graves (
Sherlock
) and David Bradley (
Harry Potter
) also star as an intergalactic big-game hunter and a space pirate respectively - oh, and watch out for a surprise guest turn or two in this Chris Chibnall-penned episode.
Watch a trailer for the new series of
Doctor Who
below:
The Thick of It: Saturday (September 8) at 9.45pm on BBC Two
It's been a long wait, but Armando Iannucci is back from the US - where he just launched new series
Veep
- to lay the smackdown on British politics for the fourth time running. But there's been a few changes in the time that
The Thick of It
has been off our screens...
This first episode follows the exploits of the new coalition government that has seized power, and introduces former
Spooks
star Geoffrey Streatfeild as Junior Minister Fergus Williams MP - we won't get our first glimpse of Malcolm Tucker (Peter Capaldi) until next week, but we'll guarantee that you won't want to miss this hilarious opening instalment regardless.
Watch a trailer for the new series of
The Thick of It
below:
The Scapegoat: Sunday (September 9) at 9pm on ITV1
ITV drama is in terrific shape at the moment, and the broadcaster looks set to continue its strong run with this all-star adaptation of Daphne du Maurier's novel.
Brothers & Sisters
actor Matthew Rhys plays the dual role of aristocrat Johnny Spence and his doppelganger John Standing in the '50s-set period drama...
The two men swap lives, but events rapidly spiral out of control and soon both Spence and Standing are caught in a dark web of deception.
Sherlock
's Andrew Scott also stars, alongside Dame Eileen Atkins, Anton Lesser and Jodhi May.
Watch a trailer for
The Scapegoat
below:
What are you looking forward to watching this week? Let us know below!