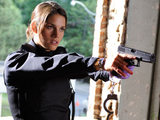 The second season of cop drama
Rookie Blue
makes its UK debut this Sunday night on the Universal channel, and to mark to the occasion, we caught up with the show's star - former
Heroes
actress
Missy Peregrym
- to chat about her role as fresh-faced officer Andy McNally.
In our chat below, Missy discusses the show's ratings success, her "weird" acting faces and which side she's on in the Andy / Sam / Luke love triangle!
Did you have an interest in the police before Rookie Blue?
"No. I didn't know anything about the police before coming into it which was really nerve-wracking. The only saving grace is that I was a rookie, so I didn't have to know everything. Thank God.
"I wouldn't want to play a character that knew everything and knew where to go. It is much more interesting playing a character that is vulnerable trying to be strong. It makes for better TV. That said, I would like to have gotten a bit better at handcuffing people!"
Were you surprised by the show's ratings success?
"Yeah. We all cared so much, and it was out of the blue, I don't think anyone knew what to think and we had a fantastic time slot following
Grey's Anatomy
. I remember laying in bed that morning [after the first episode] and I did not want to answer my phone, [but] they said we did fantastic with show ratings.
"[But] that didn't mean that we were going to get taken up, so we waited for the second and the third episode and we ended up carrying our numbers. The whole time we were just praying to God that we could go back for season two and we were so excited when we heard [about the renewal]. it was the best thing in the world."
Do you like watching yourself?
"No, because I make weird faces! However, I will say
Rookie Blue
is the one show I was very excited to watch because of the way the other actors played their characters and their scenes.
"I genuinely laughed and I genuinely cried, I thought they did such a fantastic job and that was the first time that I actually enjoyed a show that I've actually been part of, which was great."
How was the character Andy first described to you?
"Strong. When we had the discussion, when we were talking to [producer] Ilana [Frank], [and showrunner] Tassie [Cameron], they had an idea of who this character would be.
"We really wanted to make her strong but also with a lot of vulnerabilities. We didn't want her to be together. We wanted her to have good intentions but we wanted her to screw up, make mistakes and not be able to have it together as much she would like to.
"I wanted her to be as well rounded as possible. Season two shows more sides of every character, which is really nice now that we're established. It's a fine line because I'm still a rookie, but I'm not really at the beginning [of my career], and not really prepared either. It's been fun."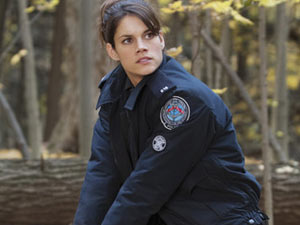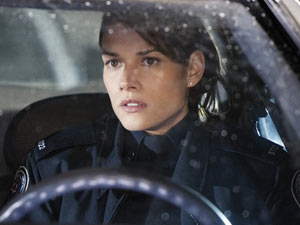 What does Andy find attractive about Luke (Eric Johnson)?
"Luke is stable. He knows what he wants. He is consistent. He's kind. He's a kind of a workaholic. He does care for Andy. I think it's a safety thing.
"Andy feels safe with Luke, especially when I come from a relationship where my father's an alcoholic and I've had to take care of him. As a teenager Andy was trying to take care of her father and her mother left, so it's a sense of home that Andy's desperate for. That's what Andy sees in him.
"However, Sam (Ben Bass), he's dangerous and I have more of a passion with him than with Luke and it's scarier, but it makes you feel more alive. The truth is that Sam is always there whenever Andy is in a [bad] situation - that's because they work together, but it is exactly the same thing emotionally. Andy is very grateful for that connection."
Who would you choose - Luke or Sam?
"Personally I'd have Sam. Only because it's pretty easy [and] simple to connect with him and there's a communication that happens between Sam and Andy which is unspoken and powerful."
How did you find playing a police officer?
"You want to play it with the most respect possible for those people who are going to be watching the show. You want to represent them properly but at the same time we're rookies and we don't know what we're doing. We just want to make it believable.
"You want to humanise police officers, you want to feel sorry for them and the sacrifices they make but you don't want to make them look wimpy. Everything walks such a fine line in terms of the way you want to go with the situation."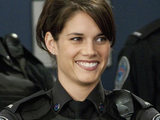 Did you know any policewomen before you signed up for the show?
"No. The trainer that came in to teach us how to handcuff and shoot guns and how to enter the situation, she was like Lara Croft. She had a pink bra in her bag, it was so sexy. She came in with cargo pants and she looked so strong but then you saw that feminism come through. It was very cool."
Were you a fan of cop shows? Did you watch a lot of them?
"I didn't watch a lot of TV growing up. I didn't have cable because my parents didn't want us to watch TV, so it's funny that I'm doing this. I am actually kind of a wimp, I can't handle that stuff. I don't watch the news. I get really emotional about it and I carry that stuff with me for a long time.
"I don't think I could be a cop in real life, so I was nervous coming into this job. I didn't know what things were going to be written and I didn't know what I was going to have to face."
How long do you think Rookie Blue will last?
"I don't know. We don't have that assurance so we're just going to wait and see what happens with this season."
Do you feel like starring in the show has raised your profile?
"I guess it has. I didn't really expect that but we came back to film the second season and people were screaming
Rookie Blue
in the streets. It's wonderful.
"I think that this is something for Canada to be really proud of. It's a big deal for others [outside of the US] to make a show like this so I'm happy for that."
The second season of
Rookie Blue
begins tomorrow night at 9pm on the Universal Channel.