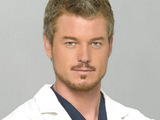 Grey's Anatomy
star
Eric Dane
has dropped some hints about what is coming up for Mark and Jackson this season.
Jackson (Jesse Williams) is
currently dating Mark's former love interest Lexie
(Chyler Leigh).
Mark
gave the duo his blessing last season
but Dane has now admitted that he might struggle when he begins teaching Jackson.
"We're going to find out if Sloan is a good teacher or not," he told
TV Guide
. "He sees that Lexie really likes Jackson and that Jackson is a good guy, so it's more a situation that if you break her heart, I'll break your face."
Grey's Anatomy
's creator Shonda Rhimes recently
suggested that the relationships between Mark, Lexie and Jackson will continue to be a "viable triangle"
.
Grey's Anatomy
will
return with a two-hour season premiere on September 22
on ABC.
> 'Grey's Anatomy' to feature 'all boys' episode
> Read more Grey's Anatomy coverage
Watch a trailer for the new season of
Grey's Anatomy
below: