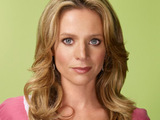 Jessalyn Gilsig
has revealed that she would love a new romance on
Glee
.
The actress, who plays Terri, told
E! Online
that she is "insisting" on a relationship.
"I definitely think Javier [Bardem] has wanted to work with me for a long time, so that's something we have to realise for him," she joked.
"I like that there's a history built in with Neil Patrick Harris's character [Bryan Ryan], so that would be really fun too. I'm a very easy, slutty person, so I'll just go with anyone."
However, Gilsig explained that a relationship will not be developing between Terri and Finn (Cory Monteith).
"That was too dangerous, so we decided not to go down that road again," she said. "Terri's going to get a new life, which is good. And it integrates her into the glee club, bringing me around the kids more."
Glee
returns on September 21 on Fox.