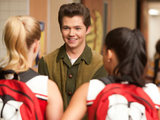 Goodness, it's been a while, hasn't it? After three weeks, we're finally about to get a brand new episode of
Glee
on our telly screens. Yes, 'Pot O' Gold' airs tomorrow night, but if you can't wait that long, we've gathered ten teasers so you can have a guess about what's coming up!
Read on to see our hints...
1.
West Side Story
has only just got off the ground, but Sue will find a way to bring it grinding to a halt if she can. And she can.
2.
Wait for it... wait for it... Brittany and Santana go on a
date
.
3.
Damian McGinty's finally made it to McKinley! As Rory, an Irish exchange student. He's certainly got Brittany's attention - she thinks he's magical. Literally.
4.
Shelby's glee club gets a boost in its membership - there might be a surprise new recruit - and a brand new name.
5.
In fact, it's not all happy families in New Directions - is Blaine causing problems? Someone says: "This isn't Dalton. We don't **** *******."
6.
You know how Quinn said she was just pretending to be a good girl again? Yeah, she wasn't lying. In fact, she's got a rather dastardly plan going on (involving botulism and hot sauce).
7.
"I really want to **** her. I'm still * ******."
8.
Sue might just have met her match (hurrah!)
9.
Someone's getting bullied. And not just the person who says: "It's mean, it's bullying, and I won't accept it."
10.
"Oh man, this is trouble."
Glee airs on Thursday at 9pm on Sky1.