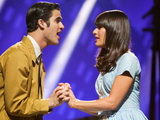 Oh, goodness. The next episode of
Glee
is an absolute doozy, and you should be cancelling all your Thursday night plans right now. You can't miss this one! 'The First Time's title gives you a pretty big clue about what it's about - yep, virginity is the talking point of the episode, and you Finchel and Klaine fans might just be very happy indeed.
But if that's not enough to get you excited, we've gathered ten hints about what's coming up. Read on to find out what they are...
1.
Artie has a crisis of confidence.
2.
West Side Story
opens to the public!
3.
You've probably heard Blaine's got a new admirer - warbler Sebastian. Let's just say he's not shy about making his feelings known (he's heard Blaine's "*** on a *****").
4.
Rachel and Finn almost have sex... but Finn calls it off because he gets upset. But why?
5.
It's not just the kids who are thinking about relationships. Beiste's got a crush... but does he like her too?
6.
Mike's been keeping his role in
West Side Story
a secret from his dad. Secrets never come out, right? Wrong.
7.
"Let's just say I miss ****** every day but ******** is where my heart is."
8.
Finn gets
very
upset at the end of the episode. We're not going to tell you why (but it's not related to teaser number four).
9.
Kurt and Blaine go to 'Drag Queen Night' at a West Lima gay bar. Oh, and they might just bump into a familiar face. And the night might just end in tears.
10.
There is a Finchel line which will make you fans
squeal
.
Glee airs on Thursday at 9pm on Sky1.